The Su-24 variable sweep bomber is a proven combat vehicle capable of providing the Russian air group in Syria with the effectiveness of long-range strike operations, according to an article published in National Interest magazine. Article translation leads
RIA News
.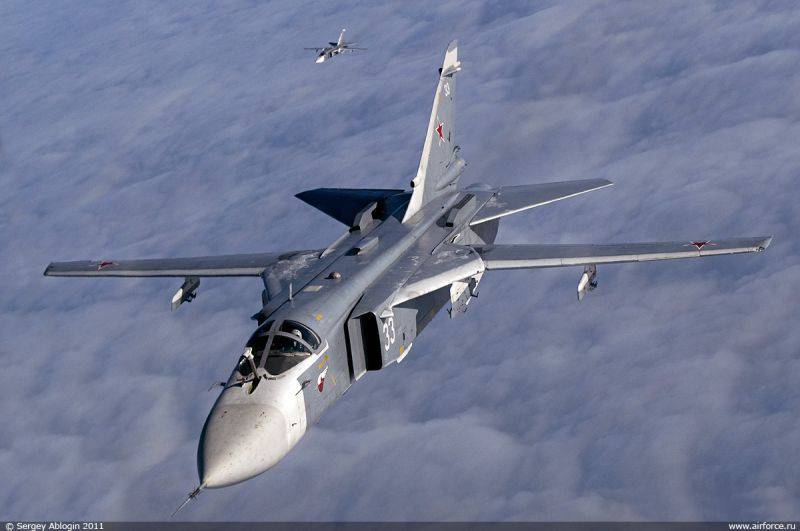 "In some respects, the Su-24 (according to NATO's Fencer codification," Fencer ") may even be more useful for carrying out operations than the multi-purpose fighter-bomber Su-34 that attracts everyone's attention," the author writes.
He notes that "despite the outdated design of the Su-24 (this aircraft was developed back in the 1960-ies), Russia has modernized the fleet of these bombers and equipped them with modern systems."
"Thus, the upgraded Su-24 has a glass cockpit, GLONASS satellite navigation systems, instrument display systems on the windshield and air-to-air self-defense. On board the aircraft can be guided missiles of air-to-air class of short-range P-73. In addition, a bomber can carry high-precision guided munitions ",
- the author reports.
According to the magazine, "the maximum combat load of the aircraft is 7500 kg, the combat radius of the Su-24 is 560 km, and the latest modifications are equipped with an air refueling system." The aircraft is capable of striking targets at low altitudes.
Moreover, in Syria, Su-24 can be used for reconnaissance operations.
Su-24 per day can rise to 30 times, "however, it is not known how many pilots who can control these machines are at the air base in Lattakia and how technical support is provided for the aircraft," the author notes.
According to the magazine, these aircraft "will be replaced in the future by the Su-34, but Russian bombers with half a century
history
still represent an effective means for hitting targets that are at a long distance from the air base in Latakia ".