When I went to kindergarten, there were two games: one banal — who would spit further, the other intellectual — who lied more. The current West, it seems, has taken both of them for ideological armament against Russia - which, I confess, is striking deeply. It seems like cultural countries, people: they do not spit at home on the floor, they make decent cars - and they bother like some kind of alcoholic Aunt Zina from the depressive Russian heartland.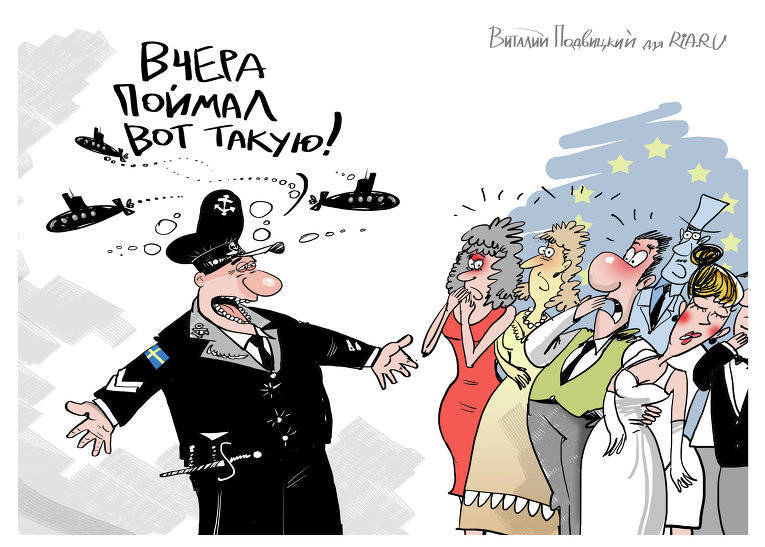 Remember, a year ago, all the Western media trumpeted about our submarine, spying in the Swedish fjords - and just a miracle escaped from legal retribution? And now just in the English-language Swedish edition of "The local" a sensational article appeared "I am convinced that it was a foreign submarine!" - about that Russian submarine that was not found then. And the other day she was found! Well, not really hers - her tracks. And not at sea, but on land.
From this article, widely sold out in the West - and, naturally, in Ukraine - the following can be understood. That the boat was thrown out, like some whale, onto the shore - and then, it must be assumed, it slipped back into the water by means of some vile means that were not yet sufficiently studied by the cultural world. Here is what the head of Sweden's Armed Forces, Sverker Geranson, told the publication:
"They did not find the submarine, but the invasion was also from land ... I am convinced that last October they invaded Sweden. Now I am convinced of this even more than before. The final research we are doing is wider and deeper ...
There are several events on land. Our units analyze them together with the police. We made several finds on land and sea. They may not be associated with a foreign force, but it is possible that foreign forces used them. (The translation is not a mistake here, the general himself bears this nonsense: "They're not used to talking about them, because if foreigners left them there, they should not know what exactly and where we found. "
And the conclusion of the whole article: although it was not possible to catch the Russian submarine in 2014, now Moscow has been exposed all around and must admit the fact of its aggression against a peaceful Swedish family!
But recognize on what basis?
In the Swedish view, there is plenty of evidence of a Russian invasion - all of them are meticulously listed in this article:
1. On land and sea, the Swedish military found something.
2. They still do not know what it is, but they are analyzing the findings together with the police.
3. But they know authentically that the found could not and at the same time could be used by a foreign force.
4. And most importantly: no one should know what exactly and where they found it, and this is direct evidence that the Russian submarine was surfing not only the waters, but also the dunes of Sweden!
To tell the truth, when we were in kindergarten playing this "who will spit on and lie more," we could not imagine that once an adult Swedish uncle, commander, would lead the same game seriously! "The Russian submarine left inexplicable but undeniable traces on the Swedish coast" - such a depressive aunt Zina, after two glasses, doesn't come to mind. A progressive Swedes - easily wakes up!