Russian airplanes from the Khmeimim airbase continue to deliver accurate point-to-point strikes against Islamic State facilities with high results, the press service reported today
Ministry of Defense of the Russian Federation
.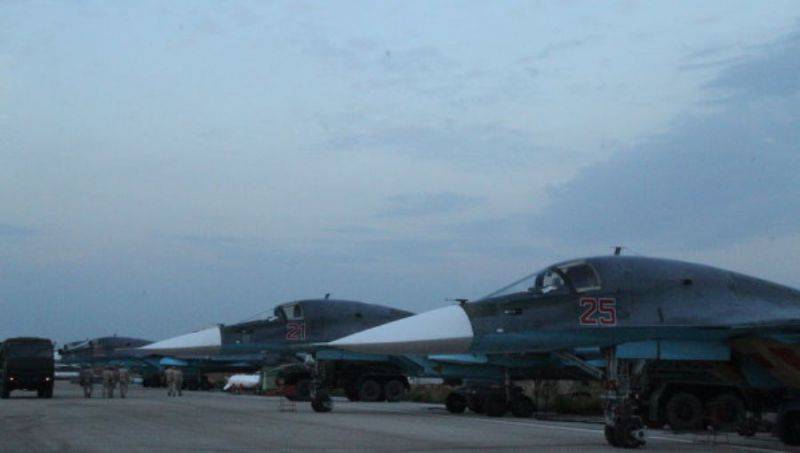 The release states:
"Unmanned vehicles carry out round-the-clock monitoring of the situation in the areas where ISIL gangs are operating. All identified targets are quickly affected, regardless of weather conditions and time of day.

Over the past day, the aircraft of the Russian air group in Syria, Su-34 and Su-24, made more than 20 sorties on the 9 targets of the ISIL terrorist group.

In the evening and at night, as a result of 6 sorties from the KHEMIMIM airbase, targeted attacks were made on 3 terrorist infrastructure facilities.

A precision strike of the BETAB-500 concrete-to-air bombs from the Su-34 aircraft near the settlement of RACKA destroyed a protected command post of one of the gangs, as well as an underground bunker with an explosives and ammunition storage.

In the province of IDLIB in the region of JISR-ESH-SHUGUR, Su-24 front-line bombers destroyed military equipment storage facilities used by militants to prepare terrorist attacks.

In addition, an air strike was inflicted on the base of militants located in the same area, as a result of which the warehouses of weapons and material and technical property located on this object were completely destroyed.

A direct hit of the bomb destroyed a workshop in which large-caliber machine guns and other heavy weapons were mounted on off-road vehicles.

The Su-34 front bomber delivered a pinpoint strike to an ISIL militant camp in the area of ​​MAARET-EN-NUUMAN, Idlib province, corrected by the Kab-500 bombs. According to objective monitoring, the fortifications of terrorists were destroyed, the ammunition depots, fuel and lubricants, and also 7 units of equipment were destroyed. "
"We note," says further, "that the likely circular deviation from the target of the KAB-500 air bombs being adjusted does not exceed 5 meters. These and other high-precision means of destruction in the last days are applied pointwise at ISIS's terrorist facilities: control centers, ammunition depots and fuel and lubricants, shops where
weapon
death row
The work of any air defense weapons in the areas of use of Russian aircraft in Syria has not been fixed.
Despite this, when making all sorties of our
aviation
special airborne protection systems are used.
We focus on the fact that the crosshair on published frames of objective control is not the aiming point for the use of ammunition, but the focus center of the video camera of an unmanned aerial vehicle that monitors the results of the defeat.
All Russian airplanes at the KHEMIMIM airbase are equipped with modern optical-electronic aiming systems that allow the use of both conventional and corrected aviation munitions point-and-point and with guaranteed target destruction. "