According to the press secretary of the Russian president, Dmitry Peskov, at the meeting in the Elysée Palace the leaders of the "Norman four" countries "checked the clock" on the most important points of the Minsk agreements. Comments Peskov leads the channel
LifeNews
.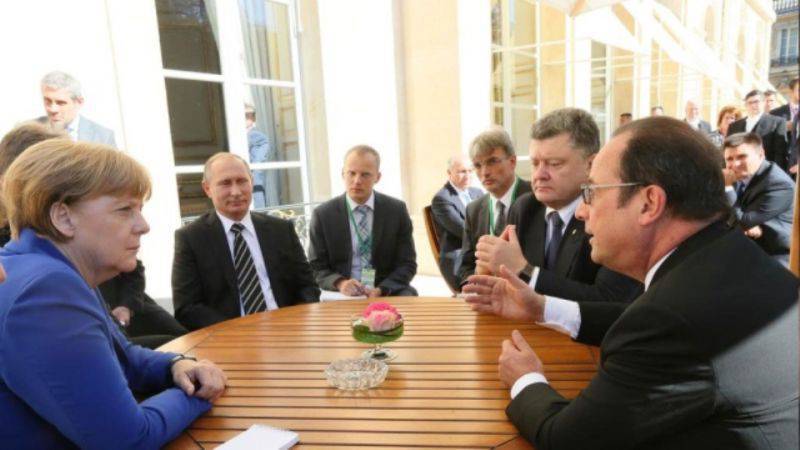 They agreed at the meeting that "all the Minsk agreements should be implemented without any interpretations," said a spokesman.
The participants of the meeting "noted positive developments in the situation in Ukraine, in particular, in the matter of signing a document on the withdrawal of weapons in caliber to 100 mm." Challenge should begin on Friday night to Saturday.
The parties also talked about "support for the OSCE mission, expansion of its mandate and humanitarian aspects," said Peskov.
They discussed topics related to elections in the self-proclaimed republics and amnesty.
In addition, attention was paid to the issue of the Ukrainian pilot Savchenko. In connection with this, Vladimir Putin said that this topic "can be discussed only after the court pronounces the verdict".
Peskov expressed confidence that the negotiations on Ukraine will continue. According to him, "in November, as expected, a meeting of foreign ministers will be held." In addition, the "daily contacts of presidential aides in international affairs" will be continued.
In turn, Petro Poroshenko, at the end of the meeting in Paris, announced the beginning of the withdrawal of weapons from the demarcation line in the Donbass.
"The withdrawal will begin from tomorrow (from October 3). It now remains to transfer the coordinates, a list of those weapons that will be removed. We agreed on the need for OSCE observers to access the entire territory of the region. "Norman Four" decided that the withdrawal of light weapons will occur within 41 day "
- said the Ukrainian president.
Negotiations of the heads of state of the "Norman Four" (Russia, France, Germany and Ukraine), held yesterday at the Elysee Palace, lasted about 4,5 hours. Upon its completion, Vladimir Putin left immediately, and did not participate in the press conference.