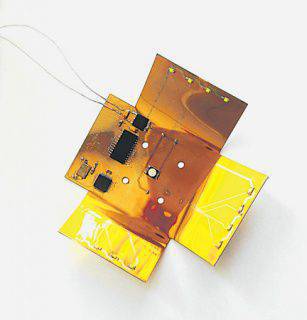 The country needs its own production of complex components of military equipment. President Vladimir Putin set this task before the industry as part of import substitution during the work of the Military Industrial Commission. The import substitution program plays a crucial role in ensuring the technological and military security of Russia. However, as the MAKS-2015 aerospace show showed, Russian industry is not only capable of substituting, but also creating products that have no direct analogues in the West. And in areas where it is difficult to wait for breakthroughs. For example, in the electronics industry.
It was almost impossible to find a small stand of AVEKS JSC and MRZ TEMP JSC at MAKS-2015 without a hint in the huge pavilion of Roscosmos. Nevertheless, it was here that two new products appeared that could determine the future development of Russian microelectronics: a unique transparent LCD screen that does not have a back reflecting wall, like the analogues of the existing ones in the world. The user sees all the objects behind the screen. This allows you to use it as a simulator and training equipment for
aviation
and cosmonautics, a unique advertising medium instead of windows and shop windows, used in "smart homes", museums, built into machines, combine the real picture behind the screen with interactive touch control (augmented reality without video cameras). Today it is possible to produce a screen with a resolution of 1920 × 1080 pixels, up to 2,5 × 1,5 meters in size.
The second novelty is the LED module, assembled not on a conventional PCB, but on a metal printed circuit board.
"This is a demonstrator of our technological capabilities," explained Kirill Zhukov, Chief Designer of the Center for Radio-Electronic Technologies of MRZ TEMP JSC. "Domestic-developed materials that allow you to create circuit boards for microelectronics with unique characteristics."
The device shown on the MAX is a LED module. In the company he was called Fish Eye. In general, from a philistine point of view, a banal lamp. What a lot of today on the market. But there is something in it that you will not find anywhere else in the world - the module is assembled on a two-layer conformal (bendable) printed circuit board on a heat-removing aluminum base and covered with a film of parylene. Such a coating, as explained by Zhukov, allows you to protect the structural elements from moisture, salt fog, mold and fungi. Work underwater at depths up to 1 m for more than 300 an hour. But most importantly, the module is assembled on an aluminum base.
"In modern electronics, in the manufacture of printed circuit boards, textolites or ceramics are commonly used," the designer explains. - Some are not suitable for the creation of lamps, drivers of electric drives - devices with high heat dissipation. Others are too expensive to manufacture. Boards on a metal base are free from such problems. "
As the designer explains, the metal board is good because it is in itself a radiator that can effectively dissipate the heat arising from the work of the radio elements installed on it. This property is extremely important when designing space and aviation instruments. Allows you to reduce the volume of this technique by 10 again, as designers no longer need to think about heat removal. The aluminum base provides heat removal from the elements, thereby improving their temperature conditions, which contributes to improving the reliability of the print unit as a whole.
In addition, the combination of soft aluminum and elastic polyamide polymer makes it possible to produce a single bend of the board with a radius of at least 5 mm at an angle of up to 180 degrees. That is, when designing devices to abandon the use of loops, adapters.
As Zhukov says, on the AO MRZ TEMP JSC, on request of AVEKS JSC, the technology of industrial production of aluminum printed circuit boards has been fully developed. Several leading space rocket design bureaus of the country have already become interested in the development: JSC Russian Space Systems, Rocket and Space Corporation Energia, Military Industrial Corporation NPO Mashinostroeniya, FSUE KB Arsenal, the MV Research Center. Keldysh, Scientific and Production Association named after S.A. Lavochkina, State Space Research and Production Center named after MV Khrunicheva, Research and Production Rocket and Space Center "TsSKB Progress" and a number of others.
"We are committed to interacting with manufacturers of microelectronics," says Zhukov. "We are looking for approaches, common interests in using our development."
In any case, as the designer notes, there is no alternative to the solutions proposed by MRZ TEMP JSC and AVEX JSC on the world market. And this is the case when the mass introduction of such devices will not lead to a trivial import substitution, but really will bring our industry to the forefront. In the area where, it would seem, our country is forever behind the West.