The Ukrainian press has taken another step to surpass itself. Informational portal
"Correspondent"
issued material allegedly with reference to the American press, entitled "Russia inflicted airstrikes on the opposition hospital - The Wall Street Journal". From the material of the Ukrainian "journalists":
On Friday, October 2, the Russian Ministry of Defense announced that Russian aerospace forces attacked the "underground headquarters of the militants" and two bunkers in the city of El Latamn. However, local activists and residents of El Latamna claim that
aviation
The Russian Federation attacked the field hospital of the fighters of the Syrian opposition, which are supported by the United States.
The Wall Street Journal
.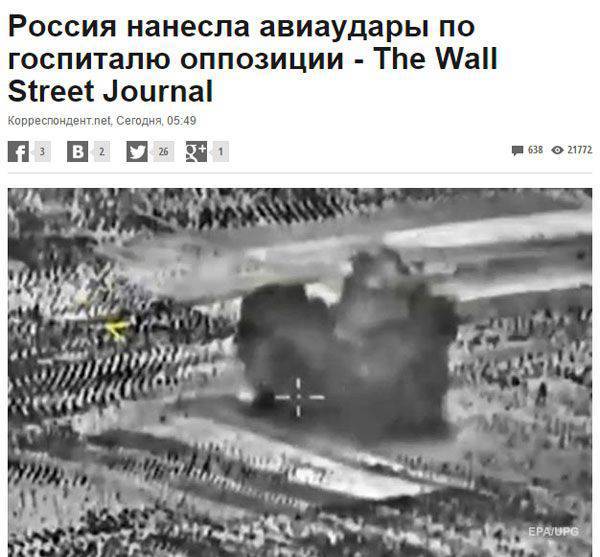 When clicking on the link provided (for those who have access to the full version of WSJ materials), it can be easily established that there is not a single word in the material of the American newspaper that Russian aviation bombed a hospital in El Lathamne. Apparently, the dill writers have decided that none of the users will particularly go into the details of the material and will believe what was written in the word.
Meanwhile, the air raid on a medical facility really was. That's just (surprise for ukroSMI) caused him not in Syria, but in Afghanistan, and not Russian, but American military pilots. It's about the bombing of Kunduz and the blow that hit the local hospital of the Doctors Without Borders organization. As a result of the airstrike of the US Air Force, three people were officially declared dead and another thirty missing. On the consequences of air strikes referred to in the material
Press Service "Doctors Without Borders"
, only the organization is strangely moving away from the mention of the fact that Kunduz bombed, "knocking out the Taliban," namely the US Air Force.
The operating director of the organization, Bart Janssens, despite numerous losses among the staff, is very restrained:
We call on all parties to the conflict to respect the safety of medical facilities.
This diplomacy clearly underlines the fact that the bombings were "democratic" ...