The Ministry of Defense of the Russian Federation spreads the message that the newest robotic complex Uran-6 will arrive in parts of the engineering troops of the BB. It is intended for the disposal of mines and other ammunition remaining on the ground after the fighting.
"Uran-6" - light (about 6-7 tons) armored car with remote control. Engine power density - 32 hp / ton. Uranium-6 is a tracked vehicle up to 140 in height. It is capable of overcoming a wall up to 120 in height. To control the armored vehicle, a special radio channel is used through which the signals from the console pass. At the same time, operator's remoteness can reach 1 km.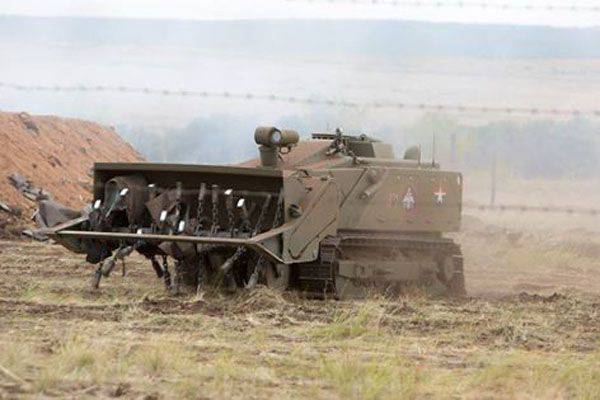 From the message of the press service of the BBO:
The demining machine is able to withstand blasting up to 60 kg of TNT. The equipment of the complex allows the detection of dangerous objects, and then determine their type. Thus, depending on the type of ammunition found, the operator of the complex can choose the most effective and safe method of neutralization.
The relatively small dimensions and weight of the Uran-6 robotic complex provide it with high mobility. If necessary, the machine, control panel and other elements of the complex can be transported either by road or by rail, by sea or
aviation
.
Training of personnel to manage the latest complexes will be carried out in Nakhabino (Moscow region).