The Ukrainian Foreign Ministry, the one that, in the person of Mr. Klimkin, accused Russia of "involvement in the creation of ISIS", requires Moscow to guarantee that the Russian videoconferencing system will not be used for a military operation against Ukraine ... about the fact that the Federation Council approved the initiative of the President of the Russian Federation Vladimir Putin on the use of video conferencing systems outside of Russia, but did not specify (the Council of Federation) where exactly the Russian Federation Council will act. In other words, Kiev wants Moscow to reassure him with statements that the VKS will not be used outside of Syria ... At the same time, the Foreign Ministry of Ukraine "demands" Russia to "withdraw the armed forces of the Russian Federation from Ukrainian territory."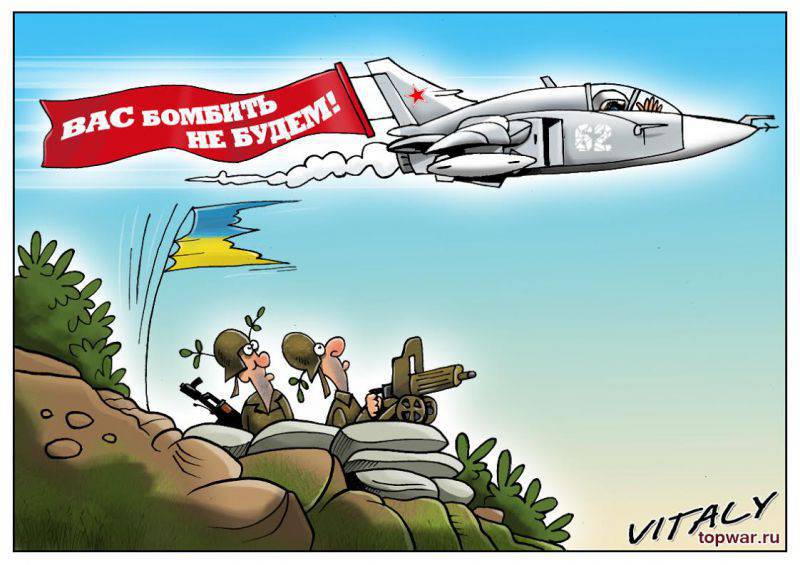 RIA News
cites a statement from the press service of the Ukrainian Cabinet of Ministers:
We expect the Russian Federation to publicly assure that there are no intentions regarding the use of the opportunities provided by the decision of the Federation Council against Ukraine, the consistent fulfillment of obligations under the Minsk agreements and the immediate withdrawal of its armed forces from the territory of Ukraine.
The Ukrainian side sharply criticizes the counter-terrorist operation in Syria. In the Ukrainian media, fakes are replicated that as a result of air strikes of the Russian Aerospace Forces "civilians are dying". It should be emphasized that with such a position are the official authorities and the media of the state, who applauded the air strike of the Ukrainian Air Force in the center of Lugansk, which led to real civilian casualties.