Well, the night has stood out! Greetings to all readers, as if for the last time ... Because the dangers began to wait for cockroaches at every turn.
I needed to run down the street today. What for? About this below. There is nothing heroic about it. Run, run, and we will run. More precisely, before there was nothing heroic. And now...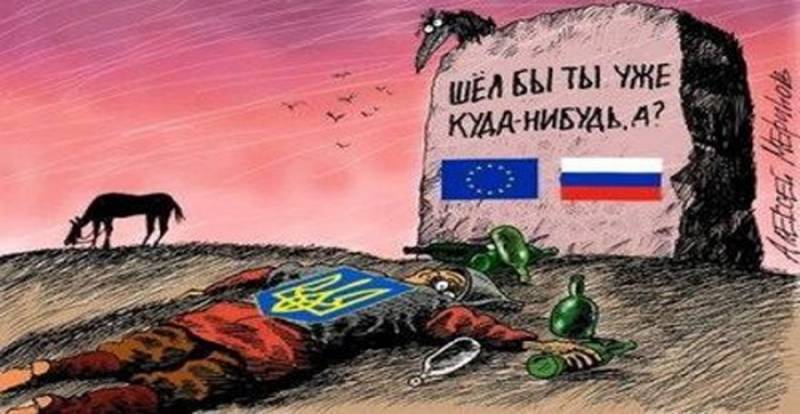 I don't know why, but at night my legs, legs, legs ... and tires from bicycles just got scary. Kievans like healthier? Ours, however, say that it is a saving. Roll on their own cars was a little expensive. And taxis in general ... So they become all supporters of a healthy lifestyle. And how are we? We have lost the habit of so many soles on the streets.
And now about the reason that inspired me to heroism. Home, of course, is love for you, dear readers. A secondary - the draft law on prostitution. Remember, I guess I wrote about it somehow. And now I have a document too. Merry such
"The Law of Ukraine" On the regulation of prostitution and the activities of sex institutions ".
The project was submitted by the people's deputy of Ukraine Nemirovsky A.V. Why so formal? The country should know its heroes, and the world - clowns.
Well, so that you do not have any discrepancies, I will immediately quote the article 2. This is about terms.
"Intimate services - erotic, pornographic display, demonstration of the body by one person to another person on a paid basis;
prostitute - an individual entrepreneur who provides services of an intimate nature, commits sexual intercourse with another person on a fee basis;
prostitution is a type of entrepreneurial activity, the purpose of which is to provide services of an intimate nature, the performance by a person of actions or activities that make it available for the performance of sexual intercourse with another person on a fee basis;
sex institution - a legal entity where prostitutes provide services of an intimate nature, commit sexual acts with other persons on a paid basis. "
Now it is not necessary to explain to the wife why you were not the day ... Immediately bang - a check on the table. Worked with an entrepreneur. Nothing personal, just business. But then, in general, humor, and as Arkady Raikin used to say, I'm not afraid of that word, satire.
"Article 5. The activity of a prostitute.
The prostitute is obliged to:
undergo a preliminary and periodic medical examination in the manner prescribed by law;
take care of personal safety and health, as well as the safety and health of the person with whom sexual intercourse takes place.
The prostitute provides services of an intimate nature, performs sexual intercourse with another person on a fee basis by mutual desire.
A prostitute can provide services of an intimate nature, perform sexual intercourse with another person for a fee in a sex institution.
The prostitute is directly responsible for the violation of the requirements of the first part of this article. "
In short, in order not to be tired of quoting the whole project, I will write a summary on this part. When the cat has nothing to do, he ... writes such draft laws. And when there are many cats, they do it collectively.
Although in vain I have it. Lawmaking is a process for very advanced minds. Because I have not left the topic. How can you not see who with the feminine charms will be the most. It is clear that not prostitutes.
"The implementation of state policy in the field of prostitution and the activities of sex institutions is carried out by the Cabinet of Ministers of Ukraine directly and through the central executive body, ensuring the formation and implementation of state policy in the field of the protection of human and civil rights and freedoms."
That's who we have the most frequent users! Or users? Nevermind. The main thing, as I understand it, will be the creation of the Ministry of Affairs ... I don't even know how to correctly name it. Let it be "for adults", as the shops used to be called.
So I will keep abreast of the topic. And then you never know ... I suddenly lose my job. Immediately become an entrepreneur. Yes, and join the union. Divorce, however, just have to. Do not appreciate missus.
And now I will take a walk on another topic, which the Russian media are silent about. And Kiev is buzzing. On the sanctions against only two Russian airlines. Just. Well, they were forbidden to fly, so what? Banned to fly in transit. Just think ...
In Russia, these airlines are like dirt. Won Yakut local airlines are not banned the same. Or there Vorkuta. Let fly. So no, the Muscovites are again "building mean-minded mstyu" free Ukrainians. The prime minister announced a mirror response. Why, I ask?
"It is necessary to declare that, unlike the two sanctions of Russian airlines mentioned in the list, UIA never violated the legislation of the Russian Federation. Moreover, UIA has been suffering for more than a year from the sanctions imposed by the Russian Federation, which prohibit the passage of Russian airspace with reference to technical reasons, which led to a significant increase in the length of a number of UIA routes and financial losses of about $ 6 million per year. "
This was stated by the representative of the Ukrainian company Evgenia Sackaya. Here! For what? Ukraine will suffer huge losses! And Ukrainians will not be able to fly to work in Russia! Such measures on the part of Russia, in the opinion of the airline, can provoke a reciprocal step on the part of Ukraine, up to a total ban on all Russian airlines to operate flights to Ukraine.
Of course, if you are banned from flying, then they will not fly. And this is called a complete ban. We do not have Yakut local airlines. So today Ukrainians are scratching their bald heads. And for us something for what?
But the most interesting is that this question is really asked sincerely. Really surprised by the meanness of the Russian authorities. And the desire to tear the poor Ukrainians away from relatives in Russia, from working there, from Russian culture.
In addition to this "revenge", the Russians came up with even more insidious. In Crimea. Even a few. I'll start with the most insidious. Imagine, dear readers, now Crimeans should become only citizens of Russia. Interesting so. And if, just in case, and the Ukrainian passport will be? In Crimea, I am Russian, and in Kiev, Ukrainian. I'm just smarter than everyone else, that's all. In Ukraine, half the cabinet has two or three passports each. Maybe collectors.
In short, the Crimean authorities began to withdraw passports from Ukrainian students. Those who came to study at universities. Just take and brazenly withdraw. And they came up with a motivation. Like, you are citizens of Ukraine, registered there, and did not refuse citizenship. So what? Or maybe these same students are "citizens of the world"? Temporarily citizens of Russia, then temporarily citizens of some other country. You never know where the work will find.
But the glory of "Hero", we have Tatars and pravoseki. They also answered with the mean Crimean Federal Migration Service. Just yesterday, how far they were ... Now even trains cannot go to Crimea! Our guys put there anti-hedgehogs! Right on rails and set. Imagine, the train is going, and there ... bam! Jerzy! However, judging by the pictures of these rails, something railway was rolling on them for the last time 10-15 years ago. But a fact!
Well, finally left our peremog. It peremogu to the fullest. This peremoga was long gone. Today, everyone writes about the speech of the Russian president at the UN. Wherever you go, just about it. And few of us are great. Because we, led by our president, wanted to spit on ...
The whole world is "zradniki". Of course, we did not expect this. Just think, the president of Russia. Here is our Poroshenko, or there, the owner ... of the White House. This is yes. Listen, open mouth. And we do not listen! We pointedly "piled" from the hall. True, then one elusive American journalist tried to find out what our president was doing in the hall. Like, for such VIPs there are special rooms. There is nothing to push among subordinates.
Yes, I did! Specially come to get out! Imagine how it would look if the Ukrainian president came out of a special room ... And so, who should, like me, be noticed, appreciated. Yes, and attitude to Ukraine, too, appreciated. There was an empty place, and left an empty place.
True, to my knowledge, there was a little more. Ours sat peacefully ate lard, with garlic and tsibule. Well, do not touch anyone. And these neighbors did not like the Ukrainian spirit. Garlic for them, you know, stinks. Well this is health! And health onions! In short, burst into tears. Go, they say, in the lobby devour. Well, ours went with the whole crowd. Who will leave the fat unattended?
This is how we live. Fun. Here so we struggle with the Russian dirty tricks and "revenges". But still we live. And I hope it will last as long as possible.
Morning fries out the window sunlight. So you have to go to sleep. And you, dear readers, have a calm and peaceful day! Let you pass someone's sole.
Your cockroach.