In the US media, there were reports that the Pentagon allegedly confirmed the arrival in Syria of at least four Russian Su-34 fighters to participate in the operation. In this regard, National Interest columnist Dave Majumdar conducted an analysis of the combat qualities of the aircraft. His article leads
RIA News
.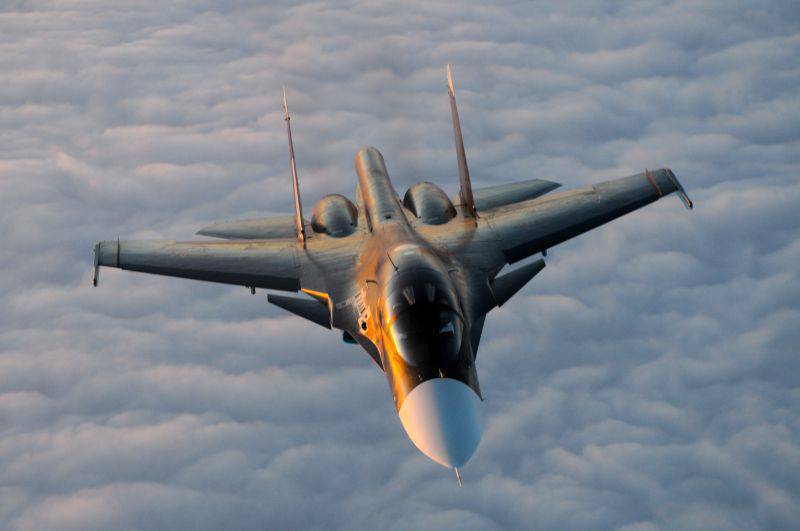 Madjumdar recalled that "Su-34 was designed in the last decade of Soviet power and became an improved version of the Su-27."
According to him, "at the moment," fullback "(the name of the Su-34 according to NATO classification) is the most advanced Russian fighter-bomber."
"The Su-34 was developed primarily as a replacement for the outdated Su-24 fighter. Just like the Su-24, the seats in the Su-34 are located on the same line. Unlike the Su-24, the Su-34 is equipped with an air-to-air self-defense system, "the analyst writes.
Equipping air-to-air missiles is one of the main advantages of the aircraft.
"In addition to short-range missiles P-73 for conducting close air combat with an offset from the main direction, the Su-34 is equipped with long-range missiles of air-to-air type P-77 with radar guidance with a range of 700 miles (about 1130 km), "the article notes.
The location systems, the author continues, "also allow one to" see "the threat approaching from behind and warn the crew of this."
To the advantages of the fighter, Majumdar also took his electron-optical fire control system.
The observer was surprised that "Russian designers have provided crew comfort uncharacteristic for other aircraft: there is space in the cockpit behind the pilots' seats, allowing crew members to stand up and even warm up."
"For Russia, the ability to deploy the Su-34 and other aircraft gives a chance to test their latest weapons in operational-military conditions," the author concludes.