No more than a statement of fact. Russia was dragged into the war. But not where it was planned and not in this perspective, as we would like.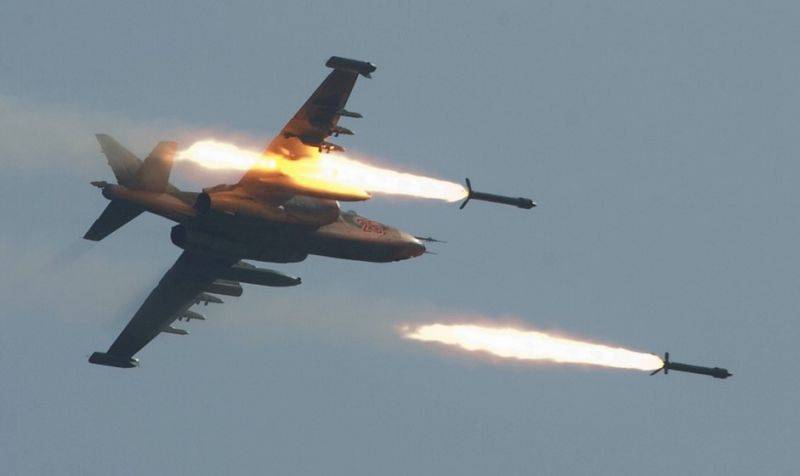 The negative attitude of the United States on this issue is understandable, since the States were doing something there, which was somewhat like fighting ISIS, but they did it, as usual, purely in their gates. The emergence of such a competitor as Russia, of course, did not cause any optimism to anyone.
I mean the list of those to whom the ISIL troubles play into their hands. That is, Qatar, Saudi Arabia, Turkey, Pakistan. Who finances ISIL and has from the flow of "black" oil and other resources coming from the territories controlled by this gang.
Yes, the United States is not included. But even so it is clear that our "partners" are in the same cohort. There is no other explanation for the vague swarming of American warriors in that region. Of course, if the budget allows you to organize the 4 departure of the F-22 aircraft and send fighters to the other side — yes, please. Who will ban?
Actually, Assad and the UN should have banned it, but who will go against the main "peacemakers" of our time?
And so ours appeared in Syria.
And on this occasion I would like to say a few words.
1. For Syria, it is necessary to fight. Still, the last ally in the region, and all that. Moreover, the most acceptable option has been chosen for this - war from the air and the supply of weapons. Moreover, it is possible to deliver in debt, Assad is not a rogue of some kind, there are enough resources to pay in case of success.
Well, the rest will follow - the base and oil and gas contracts. The contracts, by the way, were made for billions of dollars, but because of the war, almost everything was ruined.
2. Syria - it is not as far as it may seem. About 600 km to our southern borders. Plus, we have no visa regime with Turkey. That is, there is no border. And all the blackness of igilskaya will be able to roll itself quite well to us. Moreover, the Turks will not interfere with this. They have their own dances.
Already today, the fact that not one hundred idiots who want to fight for the bright ideals of ISIS has fallen into Syria has come to our territory. And what about tomorrow? Home come ideas to share?
It's quite normal to let yourself stay there under our bombs and rockets. Together with ideas. It is easier and cheaper than later in fact to catch them, and then also to keep them in prisons.
3. Air operations against ISIS are still not a fully-fledged war. This is a war with the Papuans. Yes, there are many of them, but they have no normal air defense. And if someone good "from there" and equip - it is also necessary to teach the proper use. So our pilots will get combat experience and work out real combat use without much risk.
And the most important thing is that they will reduce the number of people who want to dig a few. And with all my heart I wish them that this amount would be an order of magnitude greater than what the Americans were able to debit. If you could, of course. There are certain doubts about this.
Yes, there is, of course, and MANPADS. But he was a witness when the pilot of the most advanced ukroVVS on the Su-25 rather easily walked away from three missiles. From the fourth and fifth, however, could not, but this is another aspect. For there was nothing alone to go where there can be grabbed so many compliments.
When it comes to the systematic use of assault and bomber
aviation
in proper quantities and with normal working out - this is for you, excuse me, to show off not one in Izvarino.
4. The political aspect. In contrast to the situation in the same Crimea, in Syria, our legitimate acting president asked our military assistance. In contrast, by the way, from the Americans, whom no one called, but who themselves came to the banquet. And having fun for fun, however, with zero result.
In Crimea, our president was forced to send troops to protect people from the Nazi evil. Here he simply agreed, at the request of his colleague. And our Federation Council approved such assistance. Unanimously. It is clear that this had very much to the taste, but alas.
5. Military aspect. A year and a half ago, I spoke very sharply about the very possibility of introducing our troops into the territory of Ukraine. Well, or New Russia. And in the case of a discussion of the ground participation of our troops in Syria, I would also yell as a victim.
And in such a plan - indeed, full approval and understanding. What, in fact, I wish for everyone else. Why not poke the fanatics of the lowest sense from the air? By ensuring the safety of our pilots, especially "in case of anything."
I am quite normal with Muslims. They are different, yes. But living side by side with them is quite possible. We live after all? But when such a scum comes out, which scoffs not even at the very essence of religion, but hides behind it, creating lawlessness, destroying everything around that it does not like - sorry.
Many of my friends, honor and honor to them, not so long ago, drove around the Caucasus mountains like - both imported and domestic bottling. And they successfully sent the main mass to the right place - for dismantling to the Most High.
If I had my way, I would have given Assad the regiment "Buratin". And he would send five instructors for training. "Drying" is, of course, great, but where would you look for these igilovtsy after the "Buratino" volley? Would run towards Europe, overtaking their jeeps. Well, let Europe itself understand. Not our problems.
Our problems are just beginning. But really, since we were forced to go to war, we can only win. And to wish success and lack of loss to those of our soldiers who entered this war.