Ukraine again struck by its unpredictability. Everyone, including the government and the president of this country, is confident that life has become worse. Everything except the state statistics service of Ukraine. This discovery was made yesterday by the majority of Ukrainians, not to mention the citizens of other countries.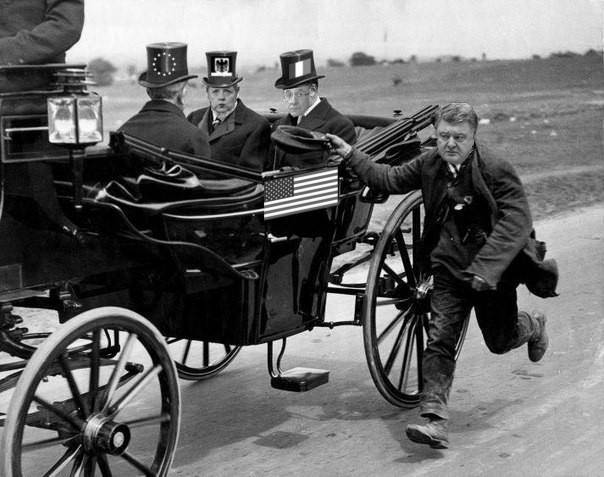 It turns out that life has become richer. Well, about the fact that after the fall of the ruble, Ukrainians have become richer than the Russians already know, probably, everything. Arithmetic is a great power. But about the fact that wages in Ukraine rose in all regions, it seems to me, a discovery. Such information was spread by this statistical "patient".
So, "according to the State Statistics Service, for the 8 months from the beginning of the year, earnings increased by 495 UAH, and compared to January-August 2014, by 576 UAH." And what do Ukrainians cry? Almost half a thousand hryvnia monthly income.
"On average, of course. Residents of all regions of the country, except for the Luhansk region, felt the increase in earnings - they began to pay less for 70 UAH than last year." This is a continuation of the message. Especially for Donbass. See, you are the only ones getting less. And so it will be with all those who will not kneel before the Kiev authorities.
"In most areas, the increase was about 350 — 450 UAH, only in Kiev and in the Donetsk region it is more than 1000 UAH." This is again addressed to the residents of Donbass. It seems, you see, how good it became in the "Ukrainian part" and how bad it was in Donetsk. Given that the majority of Ukrainians are confident in the "famine" of Donbass, a thousand hryvnia seems like a really big amount of increase.
Ukrainian
news
the resource even publishes a salary increase table by region. For greater clarity. I will not express my opinion yet, just copy it.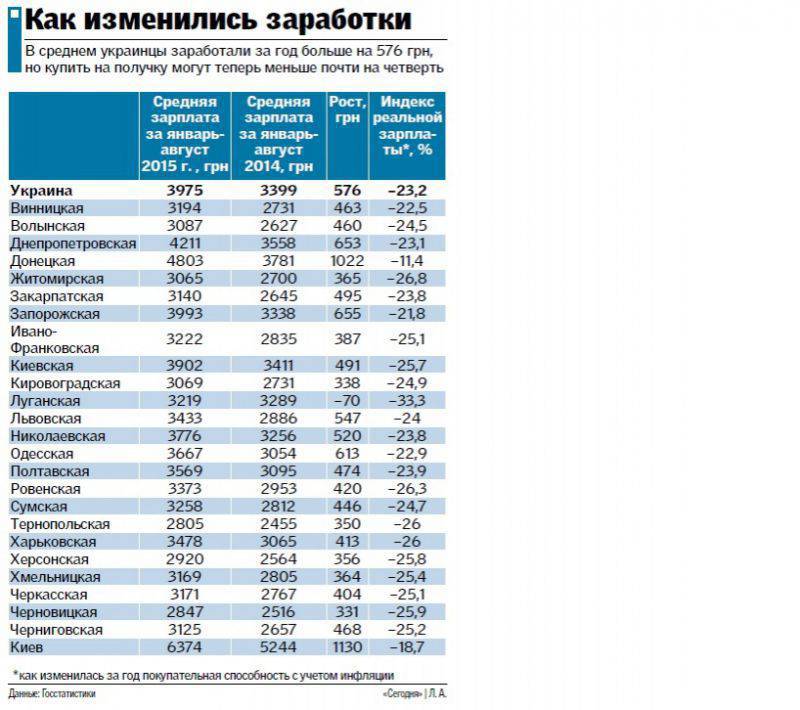 And now I ask readers to pay attention to the last column. I do not know why, but it is this column that attracts the most attention. Probably because closer to the truth than everyone else. And what do we see there? And we see a reduction in percentage wages by a quarter. In simple terms, the purse seems to have become thicker, and it is no longer possible to buy as much as I could yesterday.
There are a couple of interesting comments on the statistics service. Namely, the size of this salary by categories of workers. Whatever one may say, this indicator in the modern world speaks about the priorities of state policy. The state pays more to those who need it more.
"The three most highly paid financiers are 8388 UAH (it was 6912 UAH, an increase of 21%) and IT specialists were 6899 UAH (it was 4974 UAH, an increase of 39%). 2107 uah and teachers - 2599 uah. "
As we can see, the state does not need a healthy and intelligent generation at the present time. Looking for young (not yet started senile diseases) and not very smart, i.e. uneducated slaves. Only such a mass of the population will be able to swallow all the alleged reforms that have already passed or will pass later. Old men and other patients are a burden for the country that has won the Independence Square.
But a thoughtful reader will ask quite reasonably - what about those Ukrainians who have remained so far from the times before? And he will be right. In Ukraine, there are indeed many more who have a head, not only to have it. A lot of thinking and understanding people. They can't be bothered with such a simple sign.
And I don't want to believe in the betrayal of my native country. Especially if you are a traitor yourself. This is the usual excuse for such people. It seems, well, okay, okay, I did nothing. Well, by his connivance I gave this scum to take power into my own hands. But the rest is not so! They are patriots. The whole country cannot consist of "me like".
For such clever people, there are political scientists and experts on various issues. And the media, which the opinions of such "talkers" replicate. But the relevant government agencies will confirm these findings with their documents.
"The State Fiscal Service (GFS) during inspections during January-August found out that 57% of entrepreneurs pay salaries to employees in violation of the law."
I hope the reader understood where the wind will carry it further. For those who do not want to think once again, I will clarify. Simply put, the fiscal service tells everyone the simple truth. Thrust these calculations and tables yourself ... into analytical articles. Ukrainians really began to get a lot more. Just get not as before, but in envelopes. So, all the calculations about the deterioration of life - complete disinformation. Nothing to do with reality.
Just so, for reference, our Ukrainian readers. Nurse salary in Odessa 1500 hryvnia. This is the reality.
So, today we have a difficult, almost critical situation for approximately 7 million Ukrainians. "Subcutaneous fat", accumulated in home time, runs out. Real wages are not just not indexed, but on the contrary, they are falling. Many are transferred to part-time work. Many are laid off or sent on unpaid leave. Businesses are closing down.
The government efficiently implements the order of the owners to clean the territory of unnecessary population. And new initiatives, such as a ban on Russian flights
aviation
and the closure of borders with Russia makes it impossible to leave to work for the northern neighbor. The poverty of the Ukrainians, followed by the default of Ukraine itself, is already irreversible. The next step is a simple, but not very relevant issue. When? The answer to which December will give us.