Never wrote about ideology and civil liberties. Already very vague subject. A lot of controversial points. And most of the arguments of the authors of such articles are at the level of formal logic. And more often it is just a collection of facts to substantiate their own conclusions. Therefore, this article, if you will, is some thoughts from communicating with the participants of our forum, with their friends, with friends of friends. Thoughts based not on the conclusions of political scientists and sociologists, but on real conversations, correspondence with specific people from different countries.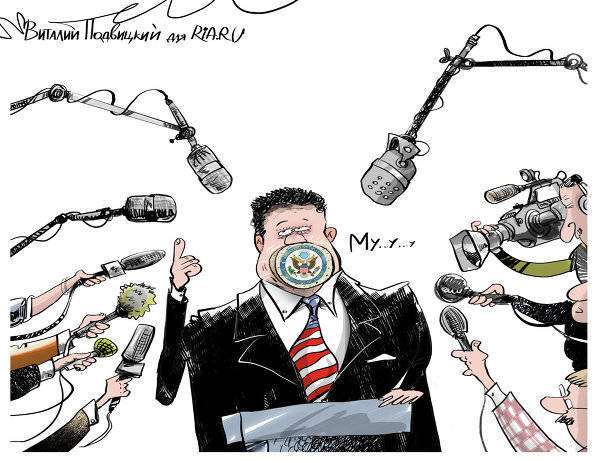 Quite a large number of familiar and unfamiliar foreigners today are among our regular readers. Many write their thoughts, their suggestions, their wishes. However, when it comes to real communication, even if using Skype, people are closed. And closes quickly. Yes, and the conversation usually ends. What is the matter?
I will start the analysis from a country that positions itself as a major global democratic power. Naturally, it will be about the United States. Well, and about Canada which I perceive as a certain appendage of America.
Our dashing 90-e scattered Russians around the world. And somehow it turned out that part of the former fellow citizens migrated overseas. The reasons are different, and not about them now. The main thing is that over time these new Americans still felt a lack of communication with the former Motherland. With us, if you like. The euphoria from dozens of sausages has passed, and in Russia now it is no worse. So, names and surnames familiar from childhood appear periodically in requests for communication.
As a person writing, such communication is really interesting to me. It is always useful to learn something first hand. Therefore, most often such communication begins. And as usual for such meetings, it begins with questions like "Do you remember ..." After some time, the memories end. Begin stories for life. Well, then, as in any company, the topic of international relations emerges. And everything ...
The mouth of a friend or friend is taped. Theme for Americans is taboo! Why?
Fortunately, there are opportunities to contact not only via Skype, but also in other ways. For example, just write a letter and send it from another country. Which was done by some of my friends.
It turned out that, for example, the Americans are not at risk of speaking about Ukraine. Special programs track ALL conversations and automatically record them for transmission to the appropriate authorities. And the FBI or the CIA's "hook up" is not a good prospect. At best, you get a warning about communicating with terrorists (by the way, directly through a computer), and at worst - you receive a subpoena. But in any case, the suspicion of complicity with terrorism is hanging on you.
In this case, special services have the right to any wiretapping, to check your accounts, to lustration correspondence and everything else. And they use it to the full. And how many enemy "spies" and "accomplices of terrorists" in the United States receive in democratic courts, we all know.
It's hard to talk about Canada at all. There, surveillance is carried out even more actively. Any connection with an interlocutor from Russia automatically enters you on the list of unreliable. No matter what you talked about. I can not say about the facts of criminal prosecution, but fines Canadian courts "sentenced" famously.
Not better things in Europe. I am sure most readers have friends in European countries. For the sake of experiment, try to talk about Ukraine with any of them. I am sure that the result will be the one I described above.
German intelligence services, for example, as well as the German courts, do not lag behind the American ones. That against the background of scandals with wiretapping Merkel and other politicians looks like something even comical. A simple German is kept under total control, but the country's leadership is not protected. Nonsense, but the way it is. Too hard to keep the throat of politicians and in general, Europe, the Americans.
I will cite as an example one acquaintance of the "Russian German" whom I met there, "behind the ribbon". And accidentally crossed on Izvarino six months. Victor told me that upon arrival in Dresden he was arrested right at the airport. And they kept him for two days. The reason is simple - he was "lit up" during the transfer of humanitarian aid to the Oplot battalion.
Still, relatively proving his innocence in hostilities, Victor returned home. The Internet was turned off, and on the computer screen there was his photo taken in the DPR, and the inscription: "You are suspected of supporting international terrorism."
Victor went to court. And the provider and the police. The trial was held in record time and ended with a fine of 2230 euros. Awarded a fine to Victor. There is nothing to disturb!
This completely democratic case, by the way, has increased the population of our country by 3 person. German with Russian roots, born in Germany, became Russian with German roots.
Not better things in some "our former" republics. I am not talking about the Baltics now. We haven't considered them for a long time. Just like friends. They live somewhere on the outskirts of Europe, and let them live. They are under free control no less than Germans or Americans.
I'm about Kazakhstan or Belarus. Control there, of course, less than in the US. But even see our comments from these countries. You can criticize everything. And all. In addition to their own leadership and their own country. It is not so noticeable, but it is. And the special services of these countries are not so well equipped with modern technology that they can "take them to the pencil."
For the sake of justice, I note that this is embryonic in Kazakhstan. But Belarusians are too active silent. Especially on Skype. Yes, and in the "Viber" too. Very, I would say, meaningfully.
The same happened with Ukraine. Previously, it seemed to me that the rabid rejection of all Russian, Russia as a country - the lot of snotty kids. The fruits of education and Maidan. It turned out no. This is a clear work of the special services and the relevant ministry. Control of the most severe. Those who write from Ukraine, under the hood for a long time. And this cap can at any time completely block the oxygen. Only some are allowed to "work" on Russia. And they do not even know most of them. Forgive me, my Ukrainian friends, but I write about what I know.
But there are positive facts. For example, Israel or Azerbaijan. I often argue with the citizens of these countries. I argue "to the blood." But I must admit, they are really free. Free in their judgments. Same as me. And our "fights" come precisely from freedom. I have my own opinion, they have their own. But they also criticize their politicians, just like me. For which they have my deep respect.
Why did I write all this? Yes, just because I thought. Thought about whether I need such freedom? Freedom "zek" in their own country. When what we are exposed as a great achievement of democracy turns out to be zilch. When total control of the state extends to all areas of my life. When a person has not done anything yet, but already guilty.
You can talk a lot, and abroad say what we are here all obedient slaves of Putin. They say a lot and tastefully. Well, there are languages ​​- let them speak. I also talk about this often. In his understanding.
And the second. Why don't I value my freedom today? Why do I take it for granted? Maybe because it is free? And to appreciate something more often you start only when you lose. I really do not want to lose. Just do not want to colic.
Mouth something just can not be closed. I'm used to, you know ...