North Cruiser
fleet
Marshal Ustinov, currently undergoing repairs and modernization at the Zvyozdochka Ship Repair Center, will return to operation in 2016 with a new missile system, reports
TASS
the message of the head of the enterprise Nikolay Kalistratov.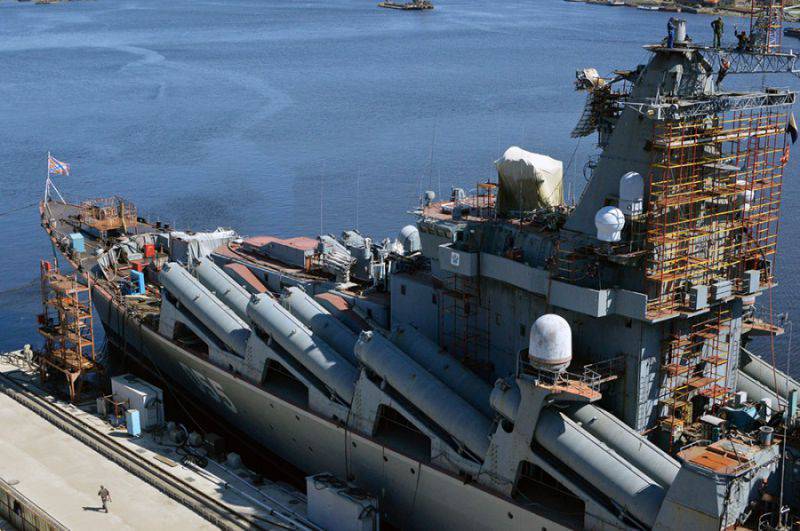 "It was decided to put a new complex on the ship (missile weapons), which is not yet available. The ship will be handed over to the Russian Navy, as stipulated by the contract, in 2016, "the general director said.
"Marshal Ustinov" arrived for scheduled maintenance in the summer of 2011. In the autumn of 2012, he was put on the slipway.
According to the press service of the company, "in the dock, work was carried out on the repair of the drainage, drainage and fire-fighting systems of the ship, the shaft line, screws, roll stabilizers, other systems and mechanisms, the coloring of the outer hull and tanks."
In 2013 g, after the launching of the ship into the water, the modernization works continued afloat.
Help agency: "Marshal Ustinov" - missile cruiser project 1164 "Atlant", the composition of the Federation Council was adopted in the 1986 year. Its displacement is 11,38 thousand tons, length - 186 meters, width - 20,8 meters, speed - up to 34 knots (about 63 kilometers per hour), cruising range - about 8 thousands of miles, crew - 510 people. The main armament is 16 launchers of supersonic anti-ship cruise missiles P-500 Basalt capable of carrying nuclear warheads. "