The director of the so-called institute of national memory of Ukraine, in addition to calling himself a Ukrainian historian, Mr. Vyatrovich opened the exhibition "Ukrainian Second World War". During the solemn ceremony, Vyatorovich announced that the losses of Ukraine (estimated by him at 10 millions) are so great, since "Ukraine did not have its own statehood".
According to the "historian" logic, if Ukraine were an independent state, would the losses be less? In principle, this logic fits into Bandera thinking, because Bandera did not intend to resist the Nazi occupation, and even if Ukraine was considered independent by 1941, it would hardly be possible for the country to have this independence if there were Bandera "rulers". This fact is obvious, based on the fact that the current authorities of Ukraine, who transferred the state under external control, do not value sovereignty either.
Портал
"PolitNavigator"
reports that during the exhibition there is a frank information pressure on the partisan movement of Ukraine (regarding the red partisans). Vyatkovich presents works that tell about the Holocaust in Ukraine, and right there the question is presented: "Where were the partisans at that moment?", As if the partisan movement in 1941-1942 could afford to openly oppose the Nazis and their accomplices in the same Kiev ...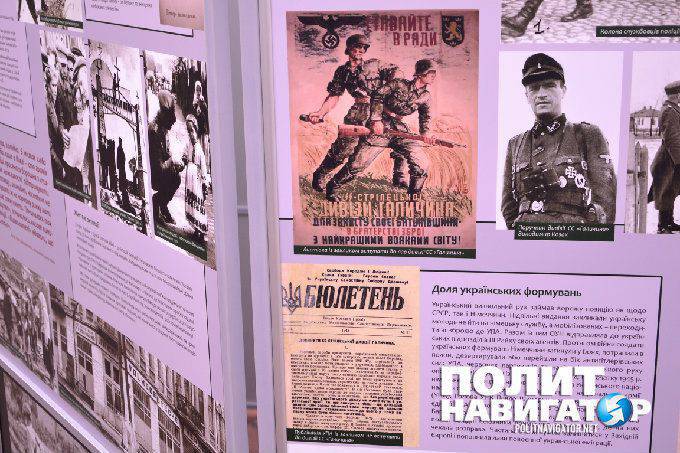 During the exhibition, numerous photographs of German documents and leaflets that Ukrainians should join the ranks of the Nazi army were published. In general, the focus of the exhibition is very specific.