In Ukraine, the Poroshenko-controlled media called his speech at the UNGA session "sharp and decisive." For understandable reasons, the Channel 5 applauded the president more than others, which Poroshenko promised to sell a year and a half ago ... However, Poroshenko's speech in foreign media was either ignored altogether or honored with open criticism and even ridicule. So, in the French press, in particular, they are perplexed that Poroshenko called the Ukrainian conflict "not a civil war and not an internal conflict":
If the citizens of Ukraine are involved in the conflict from both sides, even with the involvement of foreign mercenaries, then what is this, if not an internal conflict? If "the war against external force is an aggressor", then why Kiev does not officially announce it. What prevents?
It was noted that the words "Russia" and "Russian" in the text of Poroshenko met 31 times. This is just one less mention than in the case of the term "Ukraine". This fact is called "frankly one-sided approach to the matter by the speech writers of the President of Ukraine."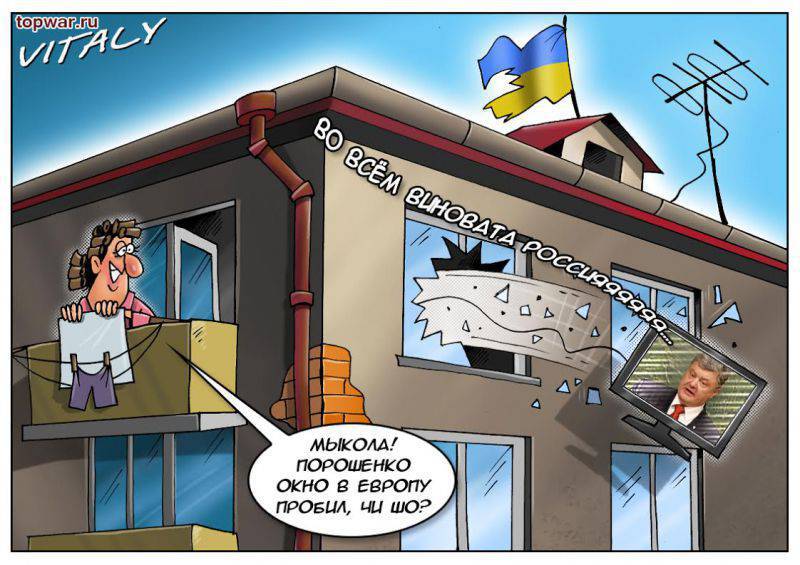 Speech Poroshenko commented and Russian lawmakers. In particular, Leonid Slutsky, head of the State Duma Committee on CIS Affairs, said (quote
RIA News
):
The performance of Poroshenko is still the same theater of the absurd that we see in Ukrainian politics after the February coup in 2014. The President of Ukraine continues to talk about "aggressive Russia" at all international platforms, accusing us of all sins, including conducting "the policy of war, fear and puppet governments". And this says Poroshenko - a man whose hands are stained with the blood of his own fellow citizens, and the president, who actually put his country under external control. Separate attention is given to passages about UN reform with proposals about limiting the right of veto. Restricting the right of veto is possible only by amending the UN Charter with the consent of the five main members of its Security Council. I hope Poroshenko is aware that, despite the position of France, his direct curators in the West, represented by the United States, are unlikely to ever do that. These conversations are simply meaningless.