In Minsk, the tripartite contact group signed an agreement on withdrawing weapons from the Donbass line with a caliber of less than 100 mm, thus completing the negotiation process, which lasted for several months, reports
RIA News
.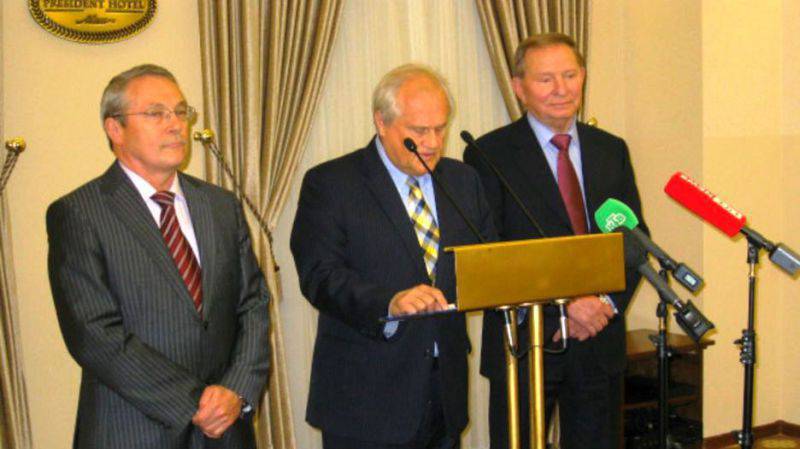 The need for the earliest signing of this agreement was discussed at the talks between the foreign ministers of the "Norman Four" 12 of September in Berlin.
A member of the trilateral contact group, OSCE representative Martin Saidik reported on the agreements reached at the end of the negotiations.
"Tonight, Kuchma, Russia's ambassador Kulmukhametov and I personally signed an addendum to the complex of measures," said Saidik.
He noted that the document has not yet been signed by the heads of the DPR and the LPR, but representatives of the republics "have assured that this will happen as soon as they return home."
Denis Pushilin (DPR) confirmed that the heads of the republics "will try to have time to sign and thus complete the execution of the agreement on Wednesday's withdrawal." He expressed satisfaction that the parties were able to agree on the document, noting that "its text was forged".
"This agreement provides for the removal of 15 kilometers
tanks
, artillery guns with a caliber of up to 100 millimeters and mortars with a caliber of up to 120 millimeters inclusive. The challenge will be carried out in two stages. The first stage will begin two days after the complete ceasefire and will cover most of the security zone of the Luhansk region. The withdrawal will occur according to the type of weapons: first tanks, then artillery
weapon
then mortars, "said Saidik.
At the second stage, according to him, "the withdrawal of weapons will occur from the entire contact line, while its duration will be 24 of the day." The entire withdrawal process will take 41 day.
In turn, the representative of the LC, Vladislav Dane, said that the Joint Center for the Control of the Ceasefire Regime (STKKK) would monitor the observance of the two-day silence regime.
"We have STsKK. This refers to his competence, he will monitor, an observation group works there, which gives an assessment through the JCCC, a report is made to the OSCE, this center works closely with a special monitoring mission, "he explained.
The representative of the Russian Federation, Azamat Kulmukhametov, stated that he "was particularly pleased to participate in the signing of a document that opens the way to an end to violence and peace, and which is concluded against the background of a cease-fire."
"It is very important that this (the signing of the agreement) was made on the eve of the summit of the leaders of the" Norman Four ". This, naturally, must be assumed to be duly appreciated, "he added.