President of Ukraine Petro Poroshenko said during a speech at Columbia University in New York that the European Union could not survive without Ukraine, which should join the EU regardless of whether the Europeans are ready for this.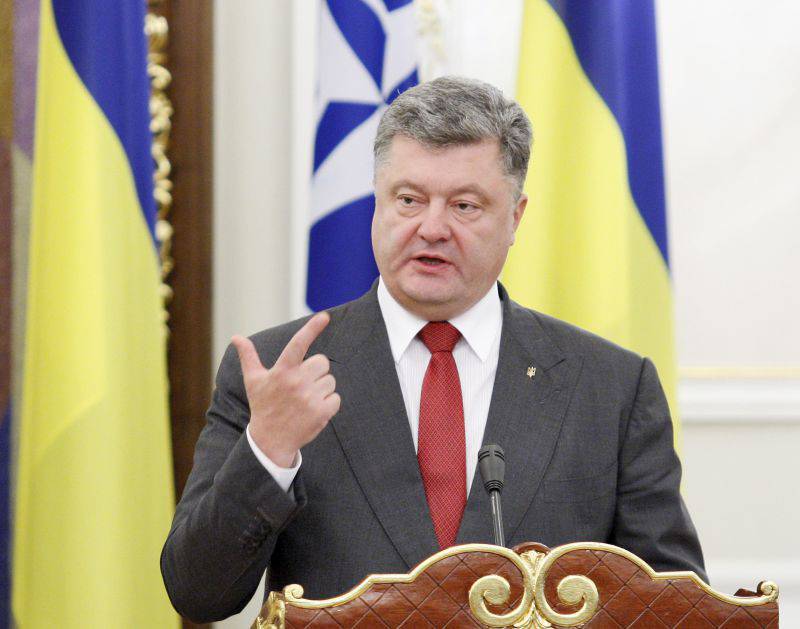 "It doesn't matter whether the European nation is ready to accept Ukraine or not. I insist, the European Union cannot survive without Ukraine. Democratic Ukraine should be in the EU. I am quite optimistic that my dream will come true, "RIA quotes him.
"News"
.
In addition, Poroshenko has once again declared that both Crimea and Donbass will return to Ukraine.
"I have no doubt that sooner or later - I would prefer it to happen earlier - we will succeed. I am absolutely sure that we will restore sovereignty over the east of the country in a short time, and the Crimea will also be Ukrainian in the near future, "he said.
According to the Ukrainian leader, the referendum on independence of the Crimea held in 2014 was illegal.
"There was no referendum. This is just a falsification of legal procedures. This fake referendum has no legal consequences and will not be recognized by anyone in the world, "he stressed.
Poroshenko also said that at the moment more than 60% of Ukrainians are in favor of joining the North Atlantic Alliance.
"What are the significant changes in Ukraine? Changes in consciousness. Two years ago, only 16 percent of Ukrainians supported Ukraine's integration with NATO. A year ago, that number was 50 percent. Today it's 62 percent, "he said.
In addition, according to Poroshenko, for seven months 2015, the Kiev authorities were able to double the country's foreign exchange reserves.
"In February, we had 5 billion dollars in gold reserves. After seven months, we have almost 13, "he said.
The Ukrainian president added that the budget deficit was also seriously reduced.
"He is now three percent. It used to be twelve, "he said.