In the Russian church of the Greek capital, an exhibition of works by Russian press photographer Andrei Stenin, who died in the Donbas of 6 August 2014, took place. One of the organizers of the photo exhibition of the Russia Today correspondent was the representative of the anti-fascist movement in Greece, Nikos Venetiz. According to him, the Greeks are very poorly informed about what is happening in Ukraine, and who bears real responsibility for the death of thousands of people, including journalists.
RIA News
quotes a statement by Nikos Venetis:
In Greece, they know nothing about the war in Ukraine. They do not talk about it here, television and newspapers do not cover events in Ukraine. We wanted the Greeks to see what was happening there, understand the horror of what is happening. We asked the church to give a place for the exhibition, hung a poster near the entrance. There are many Russian parishioners here, and we hoped that they would tell their acquaintances to the Greeks, and so people would know and come, see at least something.
Among the organizers of the exhibition are the society named after FM Dostoevsky, the Alternative group, the anti-fascist movement of Greece, as well as activists from the Save Donbass movement. Among the works of Andrey Stenin exhibited in the church of Athens are photographs of children hiding from shelling in the basement of the house, the ruins of the cities of Donbass, photos of civilians killed by the Ukrainian military.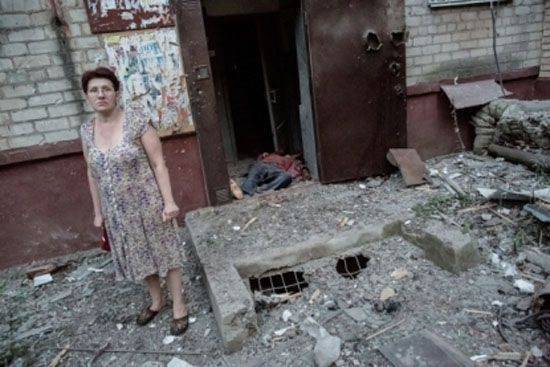 For the majority of the Greeks who visited the church, the exhibition of works became a real revelation about what is happening in the Donbas.