Speaking at the anniversary UN General Assembly, the US president said that Washington would not hesitate in terms of the use of force if anyone threatened the interests of the United States and its closest allies. At the same time, Obama noted that now is the time when it is necessary to talk about assistance against "common threats."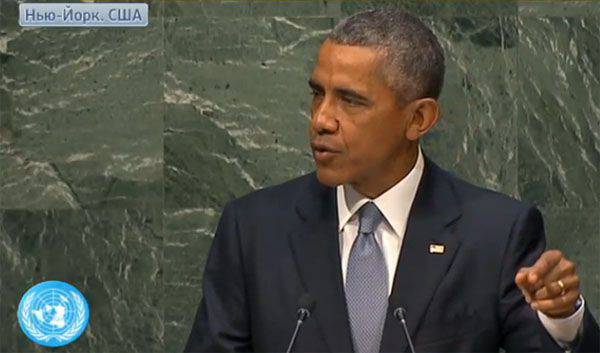 Obama perked up noticeably at the moment when he started talking about Russia. Once again, announcing that Russia "annexed the Crimea," Obama added that Moscow "violates international law." It should be noted that this is said by the president of the country, in which at the legislative level the term "international law" is completely absent.
The US president said that the statements about the beginning of the Cold War are greatly exaggerated, and that the sanctions against Russia are not an end in themselves, but added that Washington "will do everything to protect the integrity of Ukraine." According to Obama, Russia is already "facing serious difficulties" due to the support of "separatism in the south-east of Ukraine."
One of Obama's speeches was the following statement:
The ruble fell heavily. The Russian economy is experiencing serious difficulties. There is a massive migration of highly educated Russians.
Is he about Ms. Gaidar? ..
He did not miss the opportunity for Obama to attack China, which, according to the President of the United States, is trying to increase its influence in the South China Sea.
Of course, Obama spoke about Assad:
The dictator in Syria continues to kill tens of thousands of his fellow citizens. This is the problem of all mankind. We cannot close our eyes to this.
According to Obama, Assad "applied chemical
weapon
"and" began with the dispersal of the protest actions ". At the same time, there is no evidence of Assad's use of chemical weapons. Or" evidence of Obama in the style of "Powell's test tube"? ..
Immediately Obama said that the United States will use military force to destroy ISIS.
Obama:
Peace of mind in Syria comes when the people of Syria conclude a peace agreement.
Obama made it clear that he was ready to support Russia and Iran on the question of the operation against ISIS, but said that "post-war" Syria should not look like "pre-war", hinting non-transparently that Assad should leave anyway.
Obama:
ISIS, released from Iraq and Syria, is fighting and engaging in aggressive activities in order to exist. We must resist this so that between the words "Islam" and "terrorism" no longer put an equal sign.
Obama announced that the United States is increasing the quota for Syrian refugees who can arrive on American territory.
Another US president said that the suppression of peaceful protests by force - a demonstration of the weakness of the state. Interestingly, he recalled at the same time about the events in Ferguson? ..
Well, and the usual from Obama:
We have become the most powerful nation in the world thanks to democracy!