New diesel-electric submarine "Krasnodar" (project 636.3) will be transferred to the Russian Navy in November 2015 g, reports
Flotprom
with reference to the representative of the Admiralty Shipyards, Natalia Volovik.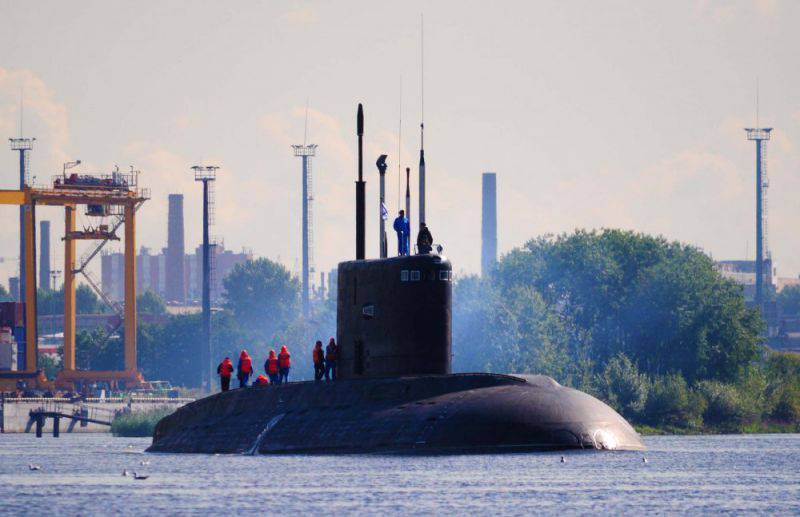 "The date is not yet known, but we will transfer the submarine on time - before the end of November, perhaps even earlier," Volovik said.
According to Volovik, Krasnodar diesel-electric submarines are undergoing the 3-th stage of sea trials.
"On the other two submarines under construction at the 636.3 project Kolpino and Veliky Novgorod, the hull is currently being docked," she added.
Portal Help:
"Krasnodar" is a diesel-electric submarine of the 636.3 Varshavyanka project. Designed to combat submarines and ships of the enemy, for the defense of naval bases, coastal and sea communications, reconnaissance and patrol activities on the communications of the enemy.

The surface displacement is 2350 tons, the underwater displacement is 3950 tons, the maximum length is 73 meters, the maximum body width is 10 meters, the average draft is 6,2 meters, the submerged speed is 17 nodes, the working immersion depth is 20 meters, maximum depth of diving - 240 meters, crew - 350 person, autonomy - 52 day, diving distance at an economic speed - 45 miles.

Krasnodar has 6 nose torpedo tubes of caliber 533 mm with automatic loading, 18 torpedoes, 24 mines, 4 Caliber missiles, Strela-3 or Igla, 8 missiles.