The Ukrainian authorities have officially notified the Russian airlines that carry passengers between Russian and Ukrainian airports that from October this year, Kiev is imposing a ban on flights from Russia to Ukraine. The ban applies to several Russian carriers, including Aeroflot, Siberia and Transaero.
RIA News
quotes a representative of the State Aviation Administration of Ukraine:
Yes, letters have been sent. Those who are subject to sanctions.
More than 70% of tickets for flights from Russia to Ukraine are bought by citizens of Ukraine, so the question automatically arises: who did Kiev punish first with its ban? ..
Russian Prime Minister Dmitry Medvedev, in response to the actions of the Ukrainian side, instructed the Ministry of Transport to work out retaliatory measures against Ukrainian carriers. If the ban also applies to Ukrainian airlines, then for flights between Ukraine and Russia (Russia and Ukraine), both Russian and Ukrainian carriers will have to use third countries for transit with a change of message boards.
Today, Russian air carriers operate flights to such Ukrainian cities as Kiev, Kharkov, and Dnepropetrovsk. Ukrainian airlines transport passengers to the Russian Federation from the same cities, as well as from Odessa and Zaporozhye.
After the introduction of the ban by the Yatsenyuk Cabinet, passengers at airports expressed their opinion on the next obscurantism of Kiev. The softest definition of passengers for those who decided to ban air traffic made: marazmatik ...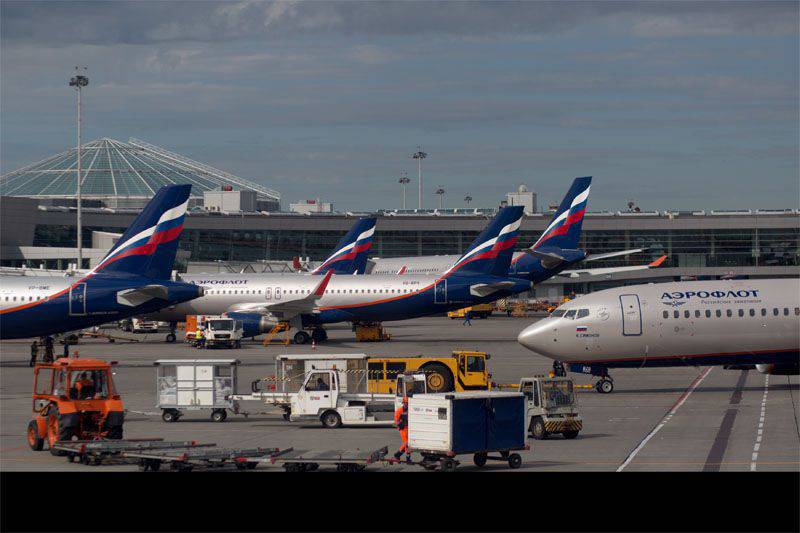 Aeroflot employees, not without bitter irony, point out that they probably fell under the Ukrainian law on "de-communization", since the airline's logo is a sickle and a hammer with wings ...