President of Ukraine Petro Poroshenko said that "in the next four years, Ukraine has no problems with debt." According to the head of the Ukrainian state, "debt restructuring was successful." Such statements Poroshenko made, visiting the Clinton Foundation in New York. Reports about it
RIA News
.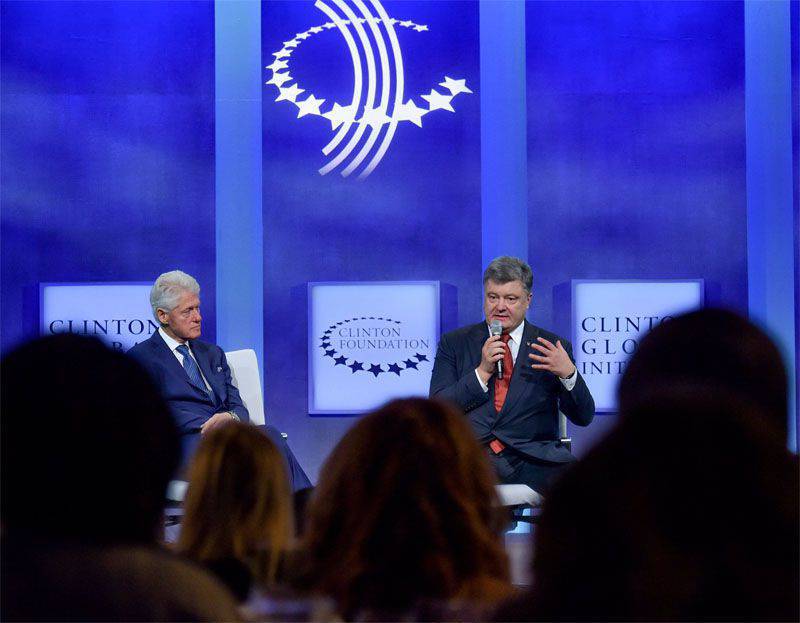 It should be recalled that the private creditors of Ukraine went to restructure the debt on conditions of enslaving for Ukrainian citizens.
Restructuring concerns 18-s of debt billions (dollars), which Ukraine will start paying obligations on 80% from 2019 onwards. At the same time, about 40% of the growth of the Ukrainian economy, if one is recorded, will automatically go to creditors. This scheme will work until 2027 year. With such a "restructuring" scheme, for Ukraine's GDP to reach the level of 2013 of the year, it will take at least 15 years with the economy growing, which is now fixed in Kiev's plans for the coming years. Not to mention that the document does not yet spell out further steps, if Kiev suddenly does not fit into the debt repayment schedule for the 2027 year, and if Ukraine's economy does not grow at all.
This year, Ukraine must pay Russia 3 a billion dollars, which Kiev Moscow did not "restructure".