It turned out that one of my regular interlocutors, a citizen of Israel, recently visited Kiev. Naturally, I could not get past such a fact, so we talked to him, and I bring his impressions to your attention.
In general, I fly to Kiev once a year. To relatives The mother-in-law and mother-in-law in Kiev oblige, especially since I have such a relationship with them, which is even pleasant. That flew the family this year.
Over the past year, Kiev and Kiev have changed, and not for the better.
Immediately struck by the fact that the standard of living dramatically went down. This is evident from the range in stores, and the most indicative, by the number of buyers. Machines are noticeably smaller. It is clear that not everyone can afford gasoline for a dollar per liter. And who works in a taxi, the prices, I will say, are such that you begin to understand that the Jewish nature has nothing to do with it. Exceptionally logic and sober reflection that you offer ZAZ "Chance" as a vehicle at the price of a helicopter.
I am used to the fact that Kiev is a beautiful city. The capital is all the same. To say that everything is sad in terms of cleanliness, of course, is impossible, but it looks somehow untidy. It is evident that they are trying to maintain order, but, whether there is no money for it, or desire. And most likely, all together.
People, too, are changing.
There is a constant press on television. I will say straight away that the mova was not able to master even at the minimum level. So God spared, I do not understand her at all. But the fact that in every second gear you can hear quite familiar words "Russia", "Crimea", "occupation", "separatists", "terrorists" - definitely. Well, the facial expression is immediately evident. When the next material begins about something connected with the Donbas and Russia (and there it only goes together), the faces become so special. Significant, but as if the cardboard gorged on.
And, of course, not a word in Russian. Although in the programs of some channels the guests quite speak to themselves. But leading - only in Ukrainian.
On the streets, the majority also use Russian. There were several cases when I was addressed in Ukrainian. But then you cut in the program "we ourselves are not local, we came to visit" - and any homicidal person immediately switched to a completely understandable Russian.
(Note from the author: I'm generally surprised that at every corner his passport was not demanded when they found out that he wasn't in the wrong place. For not only is the exterior completely Slavic, it's also the size - even now in the OMON. It's clear that they are not allowed to come from Russia to Ukraine, but vigilance should take place.)
What they say Kiev. Mostly backstage topic is Crimea. Donbass try to get round, it seems like it is not. "Silence is more beneficial for health," one comrade told me. The fact that the road to Europe is covered with an enamelled pelvis, everyone understands, except perhaps the most rabid. Yes, especially in this Europe no one breaks. It came to almost everyone, oddly enough.
Basically, if you ask what you want, the answer is one: we want to live better. At least as if Yanukovych lived. After all, not bad, in general, lived.
Surprised by the complete inertia towards power. It seems that everyone deeply does not care about who and how at the helm. I ask that you will elect a nickname for a second term? No, the nickname in the furnace. We will not elect. Who? Yes, we choose someone ... but not a nickname. So who ??? Well, there will be someone else ...
On the other hand, against the background of constant hysteria about the war with Russia, a lot of people understand that Ukraine is in a difficult and unequal struggle with the external aggressor. And this war already has its heroes and victories.
I visited the Motherland Motherland Memorial with my family. Beautiful monument, a wonderful museum dedicated to the Great Patriotic War. But in the museum, that under the statue, I was waiting for innovation: an exhibition of the heroes of the ATO. Right in the first room. Stands with photos, descriptions of feats. And army green boxes as showcases with exhibits - personal belongings of ATO heroes.
To the average person who does not want to plunge into politics in principle, all cries on TV to one place. And so it is clear that Russia is to blame for everything. It is harder for me to judge the younger generation, but the fact that the museum was full of visitors is alarming. Because here you are the heroes of the Great Patriotic War (or, as they say, the Great War for Ukraine), but you are the heroes of the ATO. Equated.
And the difference (with whom and against whom these heroes fought) does not annoy anyone. Decided so upstairs, so it should be. So be it.
With my Israeli principles, it was difficult for me to digest all this.
Amused "Police Academy". Here are just African Americans did not have enough to fully feel that you are somewhere overseas. Funny boys and girls (well, it is, one youth rolls), funny shape. They go only two by one, in the sense, one plus one. There are few, mostly on the machines cut through. They talk. But somehow it is semi-come true, but the mood is rising.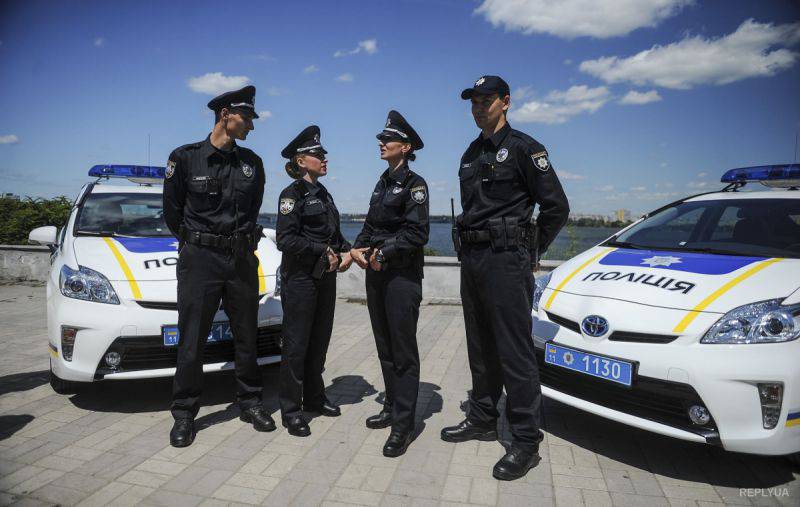 In general, if you have money, then life in Kiev is completely for yourself. Prices is a fly. Compared to Israeli. Straight country "duty free". Well, where have you seen it, fat, this is Ukrainian fat (I love, yes, gently and reverently) - 160 hryvnia per kilo? If ours, then 12 shekels? We also have pigs, how strange it will not seem to you, but we are different. In short, not that at all. Although they say that a pig is also a pig in Africa, but here we have more African pigs. And they are fed with all sorts of spoiled oranges. What kind of fat can we talk about?
Especially for an Israeli (I emphasize) of Soviet origin, and even with a Kiev resident.
These are the first impressions. Yes, Kiev residents live in Kiev. Inertly, but live. And they will live. The whole question is how. In general, it is difficult, in terms of earnings, and in terms of prices. And on the brains are under pressure. But live.
By the way, unlike last year, I have not seen a single pravosek for a week in Kiev. All these black and red in balaclava seemed to evaporate. It is not clear, of course, because last year their crowds dissected through Kiev. But it certainly did not get any worse. Cleaner.