Instead of admitting their mistakes and stopping, "well-known states" "rushed" to Syria, where they continue to shed blood, said Alexander Lukashenko at the UN summit on global development Belarusian leader Alexander Lukashenko. His words leads newspaper
Look
.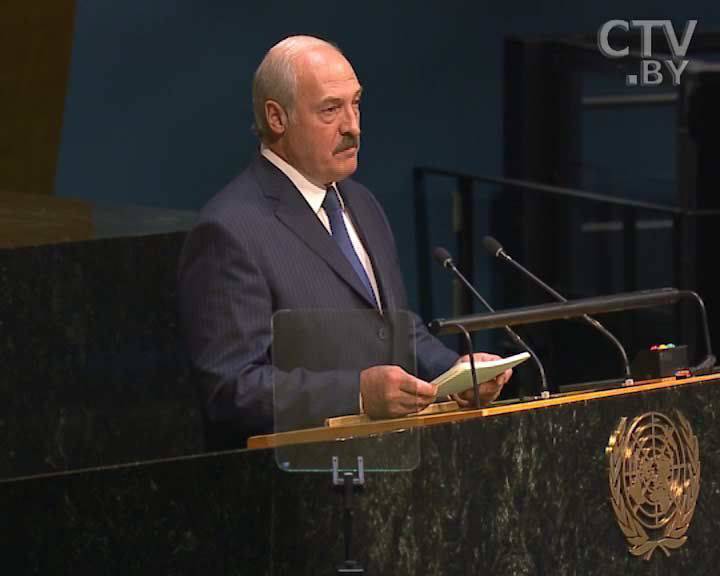 "Let's recall recent facts. Under the pretense of having a nuclear
weapons
in Iraq, well-known states decided to democratize Iraq. And where is this nuclear weapon? Where is democracy in Iraq? You, the guilty ones, say that you were mistaken and we should stop, but again not, we went further. We started with Tunisia and ended up in Libya, the same scenario, "said Lukashenko.
"Gentlemen, maybe that's enough?" No, they rushed to Syria. Why are you killing people, why are you overthrowing the current president, than he didn't please you? ", The president asked rhetorically.
Turning to the crisis in Ukraine, he said: "The Ukrainian crisis ... if we do not stop the bloodshed in Europe, the fratricidal slaughter, let us escalate this conflict, it will be hot for the entire civilized world."
Without resolving the Ukrainian crisis, "we will take another step towards a global conflict, and, perhaps, a new world war is already in the center of a civilized and advanced world," Lukashenko predicted.
"The world came to the summit (on the Goals of global development), unfortunately, fragmented, divided more than ever in the last three decades," he said.
"It is sad that the growth of global threats does not find an adequate response. We still have not managed to restore the balance of power, which was lost with the collapse of the Soviet Union. There is no balance of power, there is no peace, there is no stability. This is a systemic crisis, "said the President of Belarus.