On the eve of the anniversary of its participation in 70-th session of the UN General Assembly in New York, Vladimir Putin gave an interview to an American journalist Charlie Rose.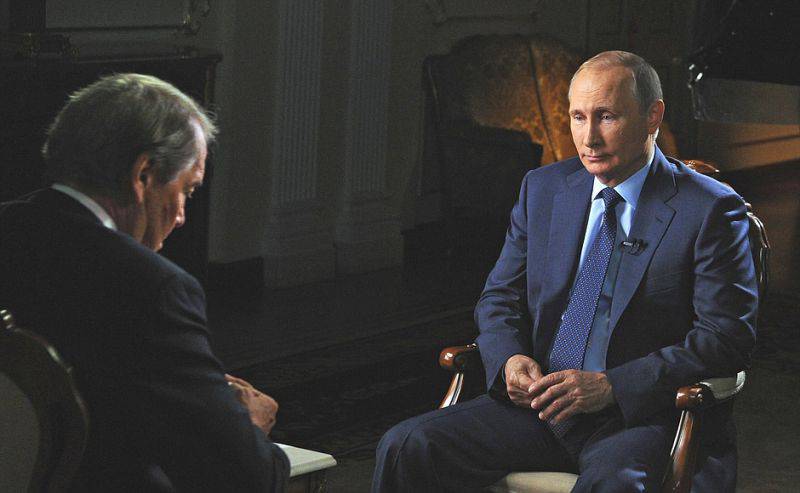 Ch.Rouz: you will speak at the UN speech, which strongly welcome. You will act in the UN for the first time in many years. What do you say to the UN, America, all over the world?
V.Putin: Since our interview will be released before my speech, it seems to me that it would be inappropriate to elaborate in detail everything that I am going to say, but in general terms, of course, I will recall
stories
United Nations. Already now I can say that the decision on the creation of the UN was taken just in our country, in the Soviet Union at the Yalta Conference. The Soviet Union, Russia, as the successor of the Soviet Union, is a founding country of the United Nations and a permanent member of the Security Council.
Of course, you will say about the present, about how today is composed of international life that the United Nations remains the only universal international organization, which aims to keep peace in the world. And in this sense, it has no alternative today.
It is also clear that the United Nations must adapt to a changing world, and we are constantly debating on this subject: it has to change, the pace at which that quality must change.
Of course, it is necessary to say, and not even what is necessary, - you will need to take advantage of this international platform to give the Russian vision of today's international relations and the future of this organization and the world community.
Rose: We expect you to talk about the threat of the "Islamic State" and about your presence in Syria, because your presence there is connected with this. What is your purpose for being in Syria and how does this relate to the fight against ISIS?
V.Putin: I think that I simply have no doubt that practically all speakers from the rostrum of the United Nations will talk about the problem of the struggle, the need to fight terrorism, and I also cannot avoid this topic. This is natural, because it is a serious common threat for all of us, it is a challenge for all of us. Today, terrorism is a threat to so many states of the world, a large number of people - hundreds of thousands, millions of people - suffer from its criminal acts. And all of us have a task to unite efforts in the fight against this common evil.
As for our, as you said, presence in Syria, then it is expressed today in the supply
weapons
the Syrian government, in staff training, in providing humanitarian assistance to the Syrian people.
We believe the United Nations Charter, that is, of the fundamental principles of contemporary international law, according to which the aid, one or the other, including military aid, can and should be provided only legitimate government of various countries, with their consent or by their request or by a decision of the Security Council of the United Nations.
In this case we are dealing with the request of the Syrian government on the provision of military and technical assistance that we are doing is completely legal within international contracts.
Ch.Rouz: Secretary of State John Kerry said that he welcomes your support in the fight against LIH. Others believe that this combat aircraft and systems MANPADS, which are used against a conventional army, not against extremists.
Vladimir Putin: There is only one ordinary legitimate army. This is the army of the President of Syria Assad. And it is opposed, according to the interpretation of some of our international partners, by the opposition. But in reality, in real life, the Assad army is really fighting with terrorist organizations. You know better than me about the hearings that have just been held in the United States Senate, if I am not mistaken, where the military, the Pentagon representatives reported to the senators about what the United States did to prepare the combat unit of the opposition forces. The goal was to first prepare 5 – 6 thousands of fighters, then 12 thousands. As a result, it turned out that all 60 had been prepared, and only 4 or 5 people were fighting with weapons in their hands, and everyone else just ran over with American weapons in ISIL. This is the first.
Secondly, in my view, to provide military support to the illegitimate structures do not meet the principles of contemporary international law and the Charter of the United Nations. We support only legitimate government structures.
In this regard, we offer cooperation and countries in the region, we are trying to create some kind of coordination structure. I personally informed the President of Turkey, the King of Jordan, Saudi Arabia. We are informed about it and the United States of America, and Mr. Kerry, whom you mentioned, had a detailed discussion on this matter with our Foreign Minister Mr. Lavrov, and of our military in contact with each other to discuss this topic. We will be happy if we can find common ground for joint action against terrorism.
Ch.Rouz: Are you ready to join the United States in the fight against LIH, and therefore you are in Syria? Others believe that your goals are, and partly to keep the administration of Assad, because now he is losing his position and his government the war is not going well. Is the preservation of Assad in power for the purpose of the presence of Russia in Syria?
Vladimir Putin: That's right, it is. Moreover, in my opinion, acting in the other direction, towards the destruction of the legitimate power structures, we can create a situation which today are seeing in other countries in the region or in other regions of the world, for example in Libya, where totally disintegrated all state institutions. We see a similar situation in Iraq.
There is no other way to solve the Syrian problem, in addition to strengthening the existing legal government agencies to assist them in the fight against terrorism, but also, of course, encouraging them at the same time a positive dialogue with the healthy part of the opposition and for political reforms.
Ch.Rouz: As you know, some of the coalition partners want to first Assad to relinquish power and only then they will be ready to support the government.
Vladimir Putin: I would like to encourage them to send this request to the Syrian people. Only the Syrian people in the country have the right to decide who and how and on what principles should govern the country.
Rose: You support President Assad. Do you support what he is doing in Syria and what is happening with those Syrians - the millions of refugees and the hundreds of thousands of people who died, and many of them were killed by his people?
Vladimir Putin: And how do you think, whether received by those who support the armed opposition, and primarily, the terrorist organizations only to overthrow Assad, without worrying about what will happen to the country after the complete destruction of its public institutions?
You all the time, repeatedly, with perseverance that deserves a better use, say that the Syrian army is fighting with its people. But look who controls 60 percent of Syrian territory: 60 percent of Syrian territory is controlled by either ISIS or others by Dzhebhat al-Nusra and other terrorist organizations, organizations that are recognized as terrorist and by the United States and other states, and the UN.
Ch.Rouz: Are you ready to send Russian troops to Syria if the fight against igil the need arise?
Putin: Russia will not participate in any military operations on the territory of Syria or in other countries, in any case, to date, we do not plan to. But we are thinking about how to intensify our work with President Assad, and with our partners in other countries.
Ch.Rouz: Many people believe that Assad's actions play into the hands LIH that awful attitude towards the Syrian people against the regime which uses a barrel-bombs and taking other hostile acts, is a kind of means of LIH. Therefore, if Assad goes, the country will come to a transitional period, which will contribute to the fight against LIH.
V.Putin: In the professional language of the special services, I can say that such an assessment is a clear active event of the enemies of Assad, this is anti-Syrian propaganda.
Ch.Rouz: This is a very broad language, among other things, it could mean a new effort on the part of Russia, to take a leading role in the Middle East, and that it is your new strategy. Is it really so?
V.Putin: No. More than two thousand militants - people from the former Soviet Union are in Syria. There is a threat that they will return to us. Than to wait until they return to us, it is better to help Assad to fight them there, in Syria. This is the most important motive that pushes us to assist Assad. In general, we, of course, do not want the situation in the region to "come to life".
Ch.Rouz: Are you proud of Russia, and it means that you want Russia to play a more significant role in the world. This is one of such examples.
Vladimir Putin: This is not an end in itself. I am proud of Russia. We have much to be proud of. But we have some fetish about Russian superpower in the world arena.
Ch.Rouz But Russia - one of the leading countries, because you have a nuclear weapon. You are a force to be reckoned with.
Vladimir Putin: I hope, otherwise why do we have these weapons?
Ukraine - it is a separate big issue, including us. It is the closest country to us. We are always saying that Ukraine - a brotherly country and there. It is not just a Slavic people, is the most close to the Russian people: the language is very similar culture, a common history, a common religion, and so on.
What do I consider absolutely unacceptable for us? Solving issues, including controversial issues, domestic political issues in the republics of the former Soviet Union with the help of the so-called "color" revolutions, with the help of coups and unconstitutional ways to shift the current government - this is absolutely unacceptable. Our partners in the United States do not hide the fact that they supported those who opposed President Yanukovych.
Ch.Rouz: Do you think that the United States associated with the overthrow of Viktor Yanukovych, when he was forced to flee to Russia?
Vladimir Putin: I know this for sure.
Ch.Rouz: How do you know?
V.Putin: Very simple. Because the people who live in Ukraine have thousands of contacts with them and thousands of contacts with them. And we know who, where, when he met, worked with those people who overthrew Yanukovych, how they were supported, how much they paid, how they were trained, on what territories, in what countries and who these instructors were. We all know. As a matter of fact, our American partners no longer hide it.
Ch.Rouz: You respect the sovereignty of Ukraine?
Vladimir Putin: Of course. But we would like to see other countries to respect the sovereignty of other countries, including Ukraine. And respect the sovereignty - which means to prevent coups, anti-constitutional actions and illegal displacement of the legitimate authorities.
Ch.Rouz: How is the displacement of legitimate authority? What is Russia's role in the renewal of power in Ukraine?
Vladimir Putin: But Russia has never been and is not going to take part in actions aimed at overthrowing the legitimate government.
Ch.Rouz: But whether you need to use military force in order to accomplish this goal?
Vladimir Putin: Of course not.
Ch.Rouz: Many say the Russian military presence on the borders of Ukraine, and some even claim that the Russian troops are in the territory of a neighboring country.
Vladimir Putin: Do you have a military presence in Europe?
Ch.Rouz: Yes.
Vladimir Putin: In Europe there is the tactical nuclear weapons of the United States, we will not forget it. Is that mean? What do you occupied Germany or only transformed the occupation forces in the NATO forces? And if we keep its troops on our territory on the border with some state, you think that it is a crime?
Ch.Rouz: In the US you have a lot of say.
Putin: nothing else to do?
Ch.Rouz: Maybe they're just curious people? Maybe you're an interesting person, maybe this whole thing? They know that you have worked in the KGB, then built his political career in St. Petersburg, becoming deputy mayor, and then moved to Moscow. It is noteworthy that they see you in photos with naked torso, galloping on a horse, and they say, is a man who creates his image of a strong man.
You love your job, you like to represent Russia, and I know that you worked in foreign intelligence, and I understand that it is your job to "read" people.
Vladimir Putin: It was my job. Today I have another job, and for quite some time.
Ch.Rouz: Someone in Russia told me that former KGB does not happen.
Vladimir Putin: You know, not one stage of our life passes without a trace. Whatever we do, whatever we do, this knowledge, this experience, they always stay with us, and we carry them further with us, somehow we use them. In this sense, yes, they are right.
Ch.Rouz: Once one of the CIA told me that you have the essential skills. You can fascinate people, and you are good at it, you are a kind of stumbles.
Vladimir Putin: Well, if you have been told by the CIA, then so probably it is. They are good professionals.
Ch.Rouz: Your rating in Russia, I think the envy of any other politician in the world. What makes you so popular?
Vladimir Putin: There is something that unites me and other citizens of Russia. We have something in common, what unites us - the love for the motherland.
Ch.Rouz: During the celebration of 70-year anniversary of the end of World War II, when we remembered all the victims that suffered Russia, all of us very much touched by the picture: You're standing with tears in his eyes, holding a photo of your father.
V.Putin: Yes, my family suffered serious losses, my relatives as a whole during the Second World War. It's true. In my father's family, I think, there were five brothers, four died. From the side of the mother - about the same picture. Russia has suffered greatly. Of course, we cannot forget this and should not forget - not in order to blame someone, but in order that nothing of the kind will happen in the future.
Ch.Rouz: You also said that the most terrible tragedy of the last century was the collapse of the Soviet Union. However, some people look at Ukraine and Georgia into thinking that you do not want to recreate the Soviet empire, but rather a sphere of influence that Russia, in your opinion, deserves because of the relationships that have existed over the years. Why are you smiling?
Vladimir Putin: You make me happy. We are all the time suspected of some ambitions and all the time trying to distort something. I really said that I consider the collapse of the Soviet Union to be a huge tragedy of the 20th century. Do you know why? First of all, because overnight the borders of the Russian Federation turned out to be 25 of millions of Russian people. They lived in a single country - suddenly found themselves abroad. Imagine how many problems arose? Domestic issues, separation of families, economic problems, social problems - just do not list everything. Do you think that it is normal that 25 of millions of Russian people were suddenly abroad? The Russians turned out to be the largest divided nation in the world today. It's not a problem? For you, perhaps not, but for me - the problem.
Rose: Many in Russia criticize you. As far as you know, they say that Russia is more autocratic than democratic. The political opposition and journalists are in Russian prisons, they are being killed. They claim that your power is indivisible, and also that power and, moreover, absolute power corrupts absolutely. What would you say to these people concerned about the political climate in Russia?
Vladimir Putin: There can be no democracy without respect for the law, and everyone has to abide by it - this is the most important and basic, what we all need to remember what no one should forget.
With regard to such tragic things, like the death of people, including journalists, - unfortunately, it happens all over the world. But if it happens to us, we will do everything to ensure that the perpetrators were found, exposed and punished.
But most importantly, we will continue to work on improving our political system, so that people feel ordinary people feel that it affects the life of the state and society, it affects the power, and that power felt responsible to the people, who trust the authorities during election campaigns.
Ch.Rouz: As you well know, if you as the leader of this country will insist on the rule of law and justice, then it is possible to achieve much in terms of the eradication of this negative perception.
Vladimir Putin: There is much, but not all and not all at once is impossible. Here in the United States as the democratic process evolves? Since the inception of the United States. But what, now, do you think that everything is decided in terms of democracy? If it was decided there would be no problems Ferguson, right? There would be other problems of this kind, there would be police arbitrariness.
The aim is to see all these problems and on time and adequately react to it. The same applies to Russia. We also have a lot of problems.
Ch.Rouz: Are you interested in America to a greater extent than any other state with which you interact?
Vladimir Putin: Of course, we are interested in what is happening in the United States. America has a huge impact on the world situation in general.
Ch.Rouz: What do you like most about America?
Vladimir Putin: A creative approach to solving the problems facing America, openness and emancipation - it gives an opportunity to reveal the inner potential of the people. I think that is largely due to this America has made such tremendous strides in its development.
Ch.Rouz: Let me ask you, what do you think of President Obama? How do you assess it?
Putin: I do not consider myself entitled to give to the President of the United States. The case of the American people.
Ch.Rouz: How do you think his work in international relations reflects a weakness?
V.Putin: I do not think so at all. The fact is that in any country - including the United States, where, perhaps, even more often than in any other country - foreign policy factors are used for internal political struggle. In the United States, an election campaign is about to take place. There is always either a Russian card or something else.
Ch.Rouz: Let me ask you a question: do you think he listens to you?
Vladimir Putin: I think that we all together partly just listen to the part that does not contradict our own ideas about what we should do and what should not.
Ch.Rouz: Do you think that he believes Russia equal? What do you think, whether he thinks you care? And that's how you want to treat you?
Vladimir Putin: So you ask him, he's your president. How can I know what he thinks?
Ch.Rouz: Have you watched the political debate in the Republican Party?
Putin: Watch so that absolutely have on a daily basis - no.
Rose: Marco Rubio - one of the candidates for the US presidency from the Republican Party - during the debate called you a gangster.
Vladimir Putin: How can I be a gangster when I worked in the KGB? This is completely untrue.
Ch.Rouz: People in Russia are afraid of you?
Vladimir Putin: I think not. I assume that most people trust me, if you vote for me in the election. And the most important thing. This puts a huge responsibility, colossal. I am grateful to the people for that trust, but of course, I feel a great responsibility for what I do, and the result of their work.
Ch.Rouz: As you know, some people call you a king.
Vladimir Putin: So what? I know, different names.
Ch.Rouz: This is the name of you meet?
Vladimir Putin: No. What matters is not how you are called by the well-wishers, friends, or your political opponents. It is important that you yourself think that you must do in the interest of the country that you entrust such a place, such a post as head of the Russian state.