In the MiG corporation, within the framework of the ROC, the construction of a MiG-35 light multipurpose fighter aircraft has been started.
MIC
with reference to Interfax-AVN.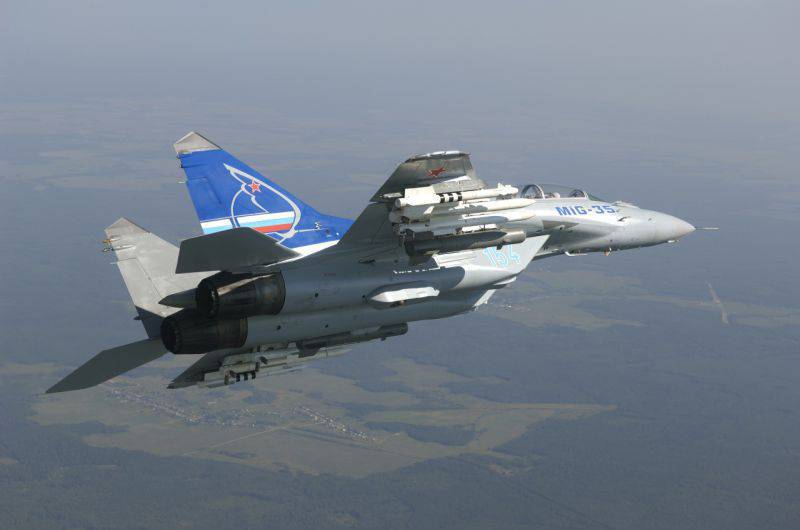 "The first prototype of the MiG-35 fighter for the Russian Air Force is planned to be produced in the first half of next year," a source in the aviation industry told the agency.
He announced that, in accordance with the contract, an 2 experienced MiG will be built. "And for the first time in many years, experienced aircraft will be made entirely at the expense of budget funds, and not for the corporation's money, as it was before," the source said.
"The MiG-35 multi-role fighter belongs to the" 4 ++ "generation. This aircraft can be considered as a transitional link between the fourth and fifth generations, "he said.
According to him, "the newest optical-radar station with infrared, television and laser sighting equipment, created using space technologies, is installed on the MiG-35; the radar provides detection, tracking, recognition and trapping of air and ground / surface targets in the front and rear hemispheres day and night". New helmet-mounted target designation and aiming system, as well as an optical-location station integrated into the control system
weapons
.
"The MiG-35 weapons are introducing promising
aviation
weapons of destruction that are not offered for export. Among them, long-range weapons that allow attacking targets without entering the enemy's air defense zone. The MiG-35 is equipped with a modern defense system, which minimizes the possibility of a sudden attack by a fighter. This complex allows you to recognize both aircraft and flying missiles, "the source said.
"The power plant consists of two X-Rum 33MK engines, 5,4 tons of tonnage (9 tons at the boost), equipped with a smokeless combustion chamber and a new electronic control system with full responsibility of the FADEC type," he said and added that "the cost of the flight hour is MiG-35 almost 2,5 times lower than the MiG-29 ".