Another material that desecrates the memory of Soviet soldiers who liberated Europe from Nazism and fascism, appeared on the pages of the European press. Russian version of the site
"BBC"
опубликовала
material "journalist" Lucy Ash
which literally writes the following:
Soviet soldiers raped countless women en route to Berlin, but this was rarely talked about after the war, both in East and in West Germany. And in Russia today, very few people talk about it.
At the same time, the material "BBC" has a very peculiar "poster" on Twitter: under the image of the monument in Berlin's Treptow Park, an entry is posted:
In Germany, this memorial is sometimes called the "grave of an unknown rapist," but why?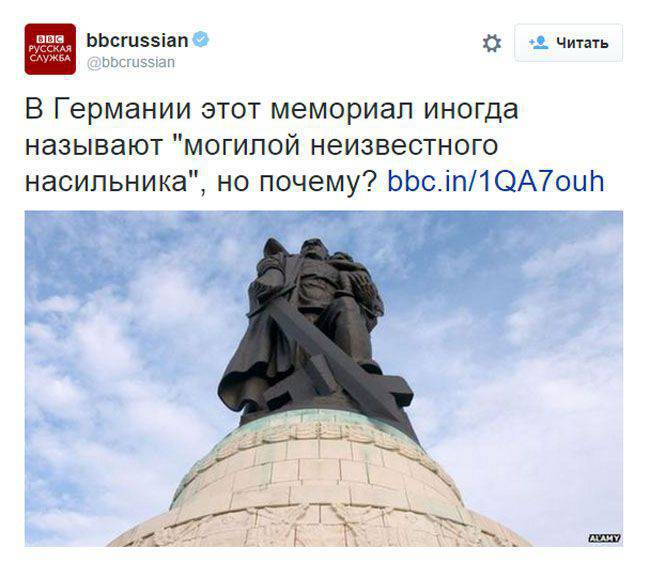 And then Ms. Ash tells her readers "why," the monument in Treptow Park is "sometimes called that way."
It is noteworthy that Mrs. Ash, who was concerned about the rape of German women by alleged Soviet soldiers, did not care at all about the documented evidence of the rape of female representatives of the German population from the soldiers of the American army. Not so long ago in a German magazine
Spiegel
An article was published with facts confirming that in the last months of the war about 190 thousands (!) rapes of German women by US Army soldiers were committed in Germany.
State Duma Deputy
Alexander Sidyakin
decided not to leave the publication of the Russian service of the BBC without attention. The Russian deputy sent to the General Prosecutor's Office of the Russian Federation a request about the need to check the Russian office of the British media for compliance with its (office) activities with Russian legislation: