Chairman of the Ukrainian Cabinet Arseniy Yatsenyuk ordered the ban on flights to the Ukrainian airports of the aircraft of the Russian airlines Aeroflot and Transaero. This is reported by the Ukrainian media. To date, these companies carried out air transportation of passengers between several Russian and Ukrainian cities. Thus, the cheapest air ticket from Domodedovo to Borispol by Aeroflot plane was, on average, costing a passenger to 8000 rubles.
Attention is drawn to the fact that, in connection with the events in Ukraine and the legislative decisions of the local authorities, Ukrainian citizens have recently used these flights. It is in connection with this that Yatsenyuk's decision looks primarily like a blow to the interests of the citizens of Ukraine, although the Ukrainian Cabinet seems to care little about the interests of its fellow citizens.
On the pages of Ukrainian users in social networks, the decision of Yatsenyuk is discussed. At the same time, this version is also considered. Many Aeroflot aircraft in the 2015 year fly with a logo created for the 70 anniversary of the Victory.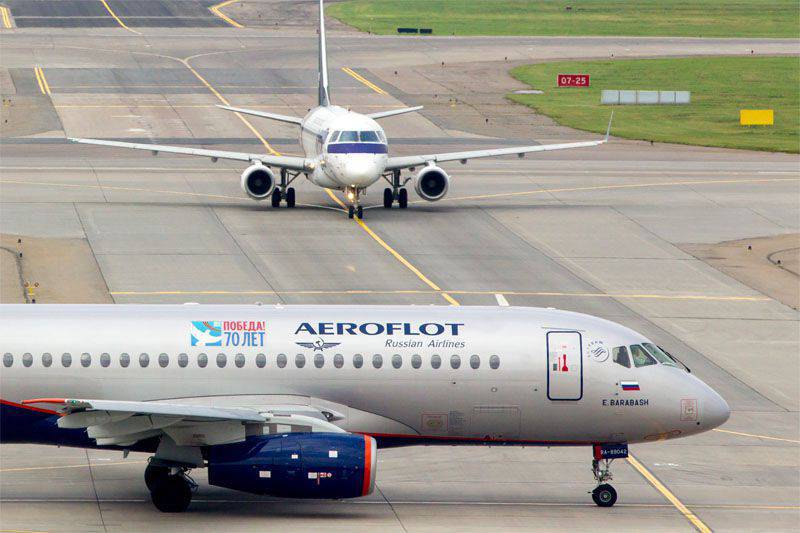 St. George ribbon on the logo. In Ukraine, for some time now, the St. George ribbon is banned as a "symbol of separatism" ... And then there is also the symbol of Aeroflot - a sickle and a hammer with wings ...