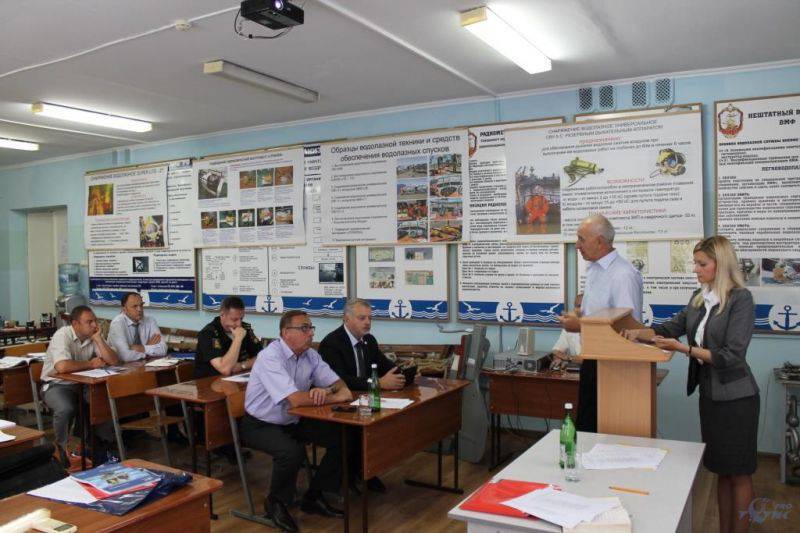 The training and methodological gathering at the Novorossiysk Maritime School was attended by the heads of educational institutions DOSAAF, training citizens under the program "Diving training", "Specialist diving work" and "Underwater swimmer."
During the gathering, the head of the marine school Gennady Gulyai reports, a meeting of the Central Diving Qualification Commission of DOSAAF of Russia (TsVKK) was held in order to test the knowledge of the leaders and senior diving specialists of the safety and labor protection rules on diving descents (works) descents and works.
The meeting was addressed by the secretary of the Central Exhibition and Convention Center A. Priyma, who summed up the work of schools in the 2014-2015 school year and focused on the tasks in the new school year. Captain 2 of rank K. Efremov devoted his report to the development of rescue and diving training of the Navy, and G. Kotzarenko, head of the southern branch of Tetis Pro, told about the modern technologies of diving using new diving equipment and equipment.
The participants of the collection got acquainted with the educational and material base of the Novorossiysk Maritime School, including a new training ground for improving the management skills of the TNLA, a remotely controlled uninhabited underwater vehicle. They also visited the training and training complex of the Novorossiysk naval base, the raid diving boat and the emergency rescue tug "Professor N. Muru", where they became participants in a practical lesson with new diving equipment and equipment, as well as instructor-methodical training on the topic " Preparation of the diving station and the organization of the diving descent in the equipment of the SVU-5 ".
According to feedback from participants, the gathering was held at a high organizational level and contributed to the improvement of professional and methodological knowledge of the management team of DOSAAF sea and diving schools.