The press service of the defense shipyard "Center for ship repair" Zvezdochka "reported that the composition of the Naval
fleet
The Russian Federation included a large diesel-electric submarine (DEPL) of the Northern Fleet B-459 Vladikavkaz, which underwent an average repair and modernization.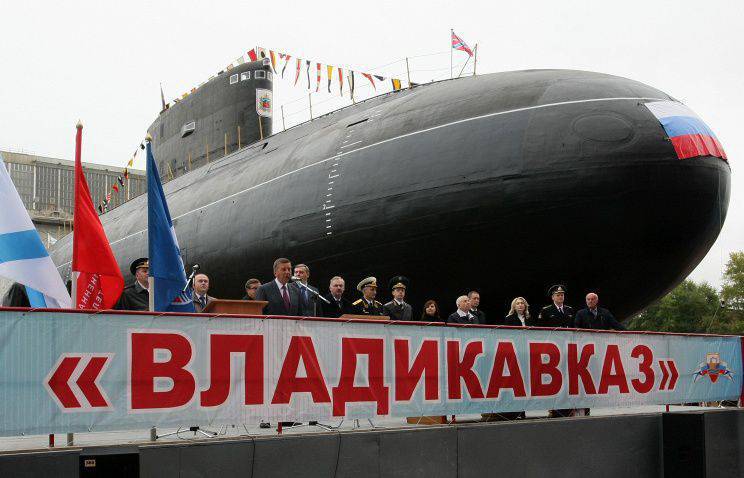 "A ceremony was held to sign the act of transferring the diesel-electric submarines Vladikavkaz to the Russian Navy. The submarine returns to the fleet, significantly improving its fighting qualities. Its service life has been extended by another 10 years, "the press service reported.
TASS
.
The Vladikavkaz diesel-electric submarines was delivered to the Zvezdochka in 2008. Three years later, a state contract for the repair of a submarine was signed. The stacking phase of the repair lasted 2.5. Work was carried out on the repair of the hull, the vtorulevaya group of mechanisms, equipment, the main power plant, as well as other systems that are responsible for the survivability of the submarine. Also, modernization of communication systems, power supply, navigation, motion control, combat information control system, power plant control system and other ship systems was carried out.
In September last year, the submarine was taken out of the slipway and lowered into the water in order to carry out the completion work and mooring tests. In August of this year, the ship successfully completed the program of marine factory sea trials.
"The ship repair center Zvezdochka, which specializes in the repair and modernization of nuclear submarines, has carried out two modernization of diesel submarines for the Russian fleet over the past two decades. In 2013, the Russian Navy received the Kaluga submarine of the same type.
"The next ship of this project, which will have to undergo repairs on the Zvezdochka, should be the submarine Yaroslavl from the composition of the submarine forces of the Northern Fleet," the press service stressed.
According to data from open sources, the "Vladikavkaz" diesel-electric submarine of the 877 EKM "Varshavyanka" project was built at the Krasnoye Sormovo plant in Nizhny Novgorod.