This week, on
armory
The Defense and Security Equipment Industry exhibition in London, the German arms company Rheinmetall Defense Electronics, introduced a new anti-drone laser system for ship placement. The system includes four high-power lasers, which are mounted on a turret, as a result of which it resembles the Gatling laser machine gun, Popular Mechanics.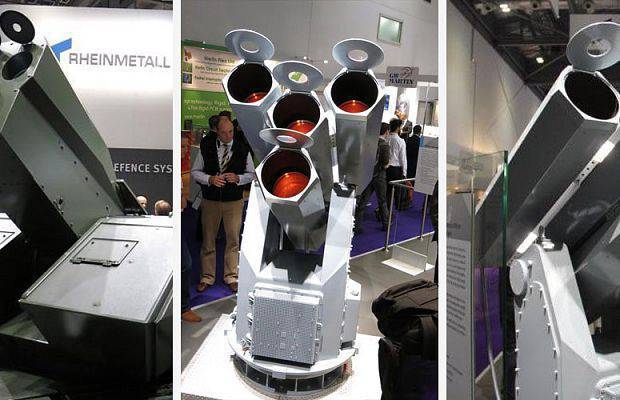 According to the principle of action, this weapon does not quite resemble traditional Gatling machine guns. Four lasers, each with a power of 20 kilowatts, produce shots simultaneously, and using the technique of spatial superposition, one power of 80 kilowatts is formed from the rays.
According to the company, when using spatial overlay on the target, it is possible to focus any amount of energy - you just need to add lasers.
The lens of each laser is protected by a special coating that prevents the rays from scattering due to fog, water droplets or rain.
With the help of a new gun, we managed to shoot down a drone at a distance of 500 meters. Also, lasers can undermine ammunition, blow up artillery shells, dazzle the sensors of other ships and even burn holes in the hulls of small ships. The actual range of the system seems to be somewhat higher: during a test run, a small laser from Rheinmetall with a power of just 30 kilowatts managed to knock down an 82-mm mine that was in the air at a distance of 1 km.