France decided on a buyer for the Mistrali, originally built for Russia. This buyer will be Egypt, reports
Rossiyskaya Gazeta
with reference to the official communique of the Elysian Palace.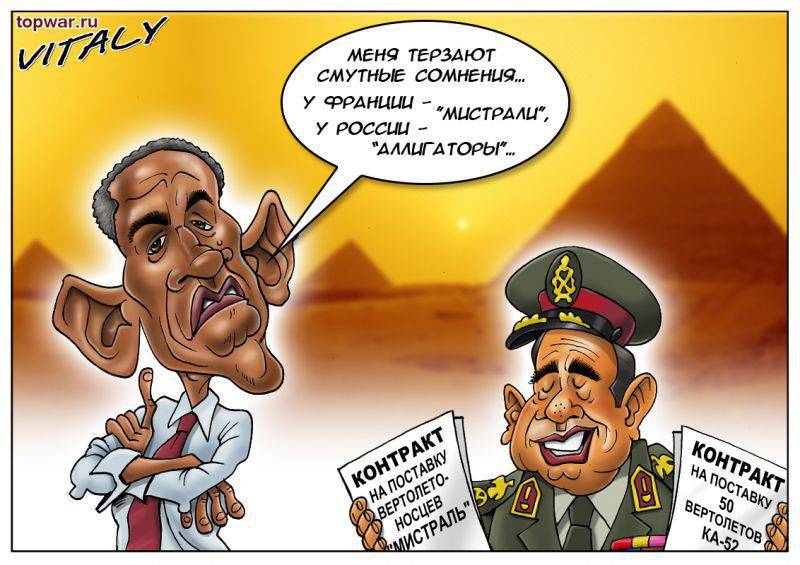 "The leaders of the two countries reached an agreement in principle regarding the conditions for the acquisition by Egypt of two Mistral helicopter carriers",
says the communique.
Leaders of the countries Francois Hollande and Abdel Fattah al-Sisi discussed this question by telephone today.
As the La Tribune newspaper reported, citing its sources, "the high-level Egyptian delegation is currently in Paris and is negotiating the purchase of ships." The names of the members of the delegation are not disclosed, it is only known that the negotiators received the mandate to discuss the transaction directly from the President of Egypt.
In addition to the helicopter carriers, the Egyptians intend to purchase a Govind-type 2 corvette.
According to the newspaper, bargaining is rather tight: "The Egyptians consider the price offered by the French (it is clear that no figures are called), too high and insist on a decrease. In turn, the seller, who is DCNS (Directorate for the construction of warships), has very limited room for maneuver due to the fact that the price issue is under the jurisdiction of the French Ministry of Economics, which by definition is far from doing business in a commercial manner. "
According to the newspaper, last week the Egyptians nearly slammed the door, desperate to agree, but at the last moment the French managed to rectify the situation.
It is not yet clear whether the delegation of Russian specialists who have already arrived in French Saint-Nazar to dismantle equipment belonging to Russia from Mistral will receive new instructions. According to the agreement of the parties, "control systems, including missile
weapons
and artillery, combat information and control systems, helicopter landing control module, and communication systems. "
Meanwhile, it became aware of the conclusion of a contract between the Russian Federation and Egypt for the supply of X-NUMX helicopters Ka-50. This was reported to the correspondent.
TASS
military diplomatic source.
According to him, "if the Egyptian side deems it necessary, the machines will be delivered in the Ka-52K ship version."