The Mi-38 helicopters will be equipped with engines exclusively made in Russia. This is with reference to a source in the helicopter industry reports the news agency Interfax-AVN. According to the source of the news agency, we are talking about the TV7-117В engines developed by the company.
JSC "Klimov"
.
The report notes that these engines have an increased resource, and it is them, and not the PW127TS (Pratt & Whitney engines), that the domestic manufacturer of rotary-wing aircraft chooses.
From the message
Interfax-AVN
:
In the next two weeks, TV7-117V should receive an addition to the certificate for an increased service life, which will be at least 1000 flight hours (overhaul interval). All necessary documents and materials have already been sent to
Aviation
Register of the Interstate Aviation Committee.
Specialists of the Kazan Helicopter Plant will build the first two Mi-38 helicopters with the Russian TV7-117V engines in the first half of the year 2016. Total JSC "Klimov" in the period from 2016 to 2019. will supply for such helicopters 50 engines of its development. The contract amount is more than 3,9 billion rubles.
Mi-38 - Russian medium multipurpose helicopter, which should eventually replace the Mi-8. The first flight of the Mi-38 took place on December 22 2003 of the year. By 2015, 4 prototypes of this helicopter were built with the prospect of using foreign engines PW127TS. However, in connection with the events in Georgia in 2008, in North America they announced that engines would not be supplied to Russia, which allowed the Russian Federation to develop its own production.
For your information:
The TV7-117B engine belongs to the HP power class 2500-3000. Cruise Specific Fuel Consumption - 220-230 g / hp. hour. Engine weight, depending on version - 360-380 kg.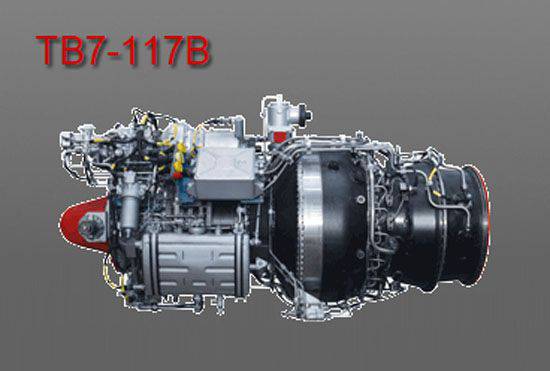 Development goes in two directions:
with the output of the power shaft forward - the TV7-117В (ВМ) engine for the Mi-38 helicopter and its modifications;
with the output of the power take-off shaft back - the TV7-117ВК engine for upgrading the Mi-28, Ka-50 / Ka-52 helicopters.