The repaired and modernized diesel-electric submarine "Vladikavkaz" (project 877, code "Halibut") will be transferred
the fleet
a month earlier than the deadline indicated in the schedule, transfers
TASS
message of the Ministry of Defense of the Russian Federation.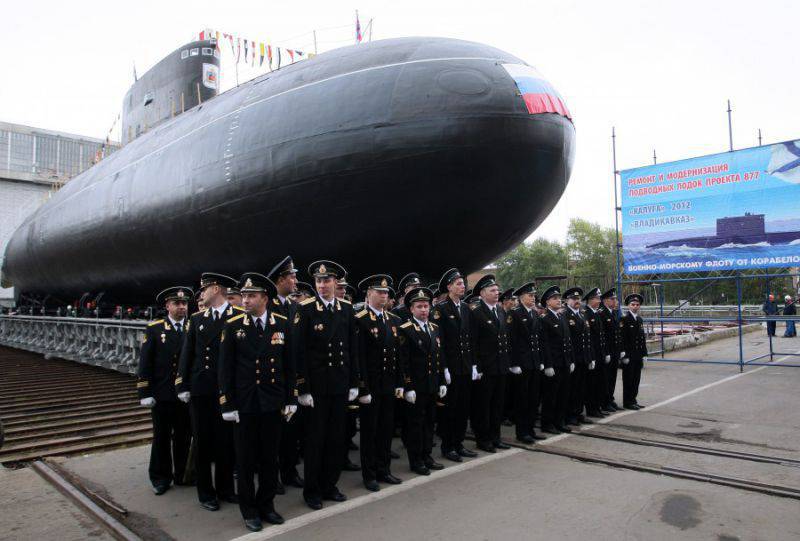 "At the Zvezdochka Ship Repair Center, the representatives of the Russian Navy's High Command will take part in the ceremony of signing the large diesel-electric submarine of the 877 Vladikavkaz project to the Russian Navy after the completion of the medium repair and modernization work," the release said
In turn, the representative of "Stars" Nadezhda Shcherbinina reported that "the ceremony of signing the act of transferring the submarine" Vladikavkaz "to the Russian Navy will be held at the Palace of Culture on Yagry." "The life of the submarine is extended by another 10 years," she said. "In August, the ship successfully completed the program of sea trials at sea."
The contract for upgrading the boat was signed at the end of 2011. According to the company, the ship repairers "repaired the hull, equipment, thrusters, main power plant and other systems that ensure the survivability of the submarine."
It is reported that the upgrades were subjected to "communication systems, navigation, power supply, motion control, combat information control system, power plant control system, other ship systems."
"The Vladikavkaz submarine returns to the Navy, significantly improving its combat qualities and tactical and technical characteristics. After the completion of repair and modernization works, the submarine is able to effectively carry out tasks for its intended purpose as part of the Northern Fleet Submarine Forces "
- said Deputy Commander of the Navy Viktor Barsuk.