At the opened exhibition in Kiev "
Weapon
and security - 2015 »Ukrainian enterprises have shown a number of new models of their own designed armored vehicles.
Kiev plant "Leninskaya smithy" for the first time showed a full-size model of a floating armored personnel carrier "Varan" with the wheel formula 8х8. The machine has the right location of the engine, and the landing of the amphibious crew through the side doors and a stern ramp.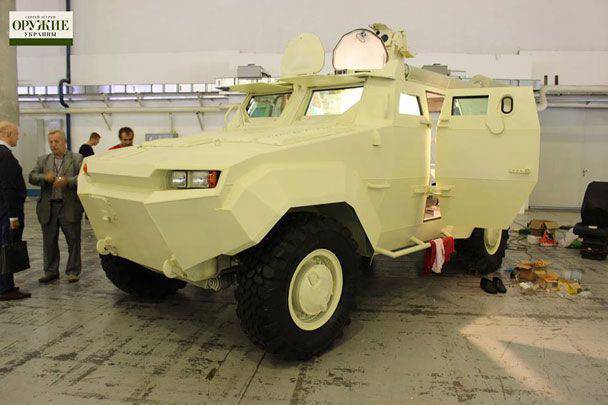 In addition, the manufacturer introduced the first version of the prototype 10-ton armored "Triton" with the wheel formula 4 x4.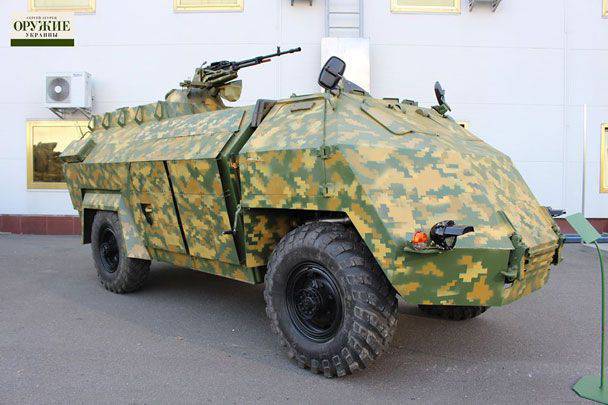 Bogdan Corporation presented a modified prototype of the Leopard-8 tactical armored vehicle with the wheel formula 4х4, first demonstrated in April 2015.
The state enterprise Lviv Armored Plant held a presentation of two samples of the Dozor-B armored vehicle with the wheel formula 4х4 developed by the Morozov Kharkiv Mechanical Engineering Design Bureau.
The Zhytomyr armored plant presented a sample of the upgraded BMP-1 based on the new version of the BMP-1UM with the improved squall module. It is noted that in the future an optoelectronic kit with a KLW-1 "Asteria" thermal imaging camera of the Polish company RSO SA can be installed on the combat module. In addition, the height of the troop compartment has been increased on the BMP-1UM, and for some reason mounted modules of the Kontakt-1 dynamic protection are installed on the sides.
A prototype of the Ovod armored car became another product developed by the Zhytomyr plant.