In the modern world of the triumph of tolerance, freedom and democracy, it is becoming more and more interesting to live. And to observe some things that cause, if not a complete surprise, (if expressed in the framework of censorship), then the deepest bewilderment.
Perplexity Complicated word. It did not come to mind, so what if interpreted by Zadornov? Or the ability to understand not?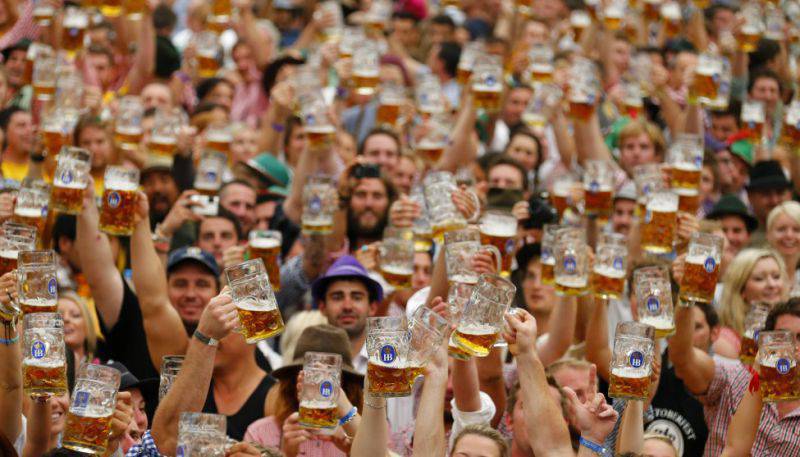 This is either not enough of my mind, or the ability to use it. I admit and sign in my own powerlessness in this matter.
We are talking about the beginning of protest actions and the collection of signatures for the prohibition of the ... Oktoberfest.
This year, the most merry, drunk and gluttonous holiday of the Germans will celebrate its 205 anniversary. Solid number. But to whom and what did he prevent, that they began to collect signatures against him and write petitions to various agencies?
"I am writing this letter to bring to your attention something that I and many Muslims consider unfair. I would like to inform you that Oktoberfest is intolerant of our religion and is an anti-Islamic event. We tried to ignore the event, but too many non-Islamic acts occur at the Oktoberfest. For example, alcohol consumption, demonstration of nudity, etc. We understand that Oktoberfest is an annual German tradition, but we Muslims cannot tolerate this non-Islamic event, because it offends us and all Muslims on earth. We ask for the immediate cancellation of the upcoming Oktoberfest. We also believe that Oktoberfest can insult all Muslim refugees coming from Syria, Iraq, Afghanistan. Cancel Oktoberfest helps refugees not to forget their Islamic
history
. Thank you for your attention to this issue. "
This appeal was signed by Jozef Mohammed from Ankara (Turkey).
And on the site change.org they are collecting signatures (https://www.change.org/p/city-council-of-munich-ban-the-intolerant-and-anti-islamic-event-of-oktoberfest-2nd- attemt). Well, not with might and main, the action is neither shaky nor shaky, but there are a number of voters.
The question arises: who benefits? Ancient Roman statement is applicable by the way.
Indeed, it seems that these evil Muslims decided to please the most sacred for the Germans in order to please their convictions. On the autumn binge. And, of course, the responses and opinions turned out very different.
If you look not very carefully, then yes. Migrants and refugees in thousands of rush to Europe to integrate. And perhaps, to remake it for themselves. You know, for centuries the established way of life, principles, religion, again ... Paradja-hijabs and all that.
And, most importantly, they came not against their will. Definitely. They rushed to Europe precisely because it became impossible to live at home by settled down structures. Houses are shooting. Houses are bombed. At home, death and devastation. Home hungry and no prospects. And in Europe, everything is quite edible. And what not to go?
Moreover, Europeans have a fair share of responsibility for all of the above.
Of course, having seen such a pitch, any self-respecting German will not just catch up, but go to the grandmother in the village of MP-40 to dig out. Figuratively speaking.
Increasing ethnic tensions in Europe is real. The growing popularity of nationalist and Nazi parties is also quite possible. Well, what usually happens next there, we all remember ... Refugees, while not great thousands arrived in Europe, however, European countries even started to dog about who they would be shoving.
But the Europeans are clearly not ready to act sharply and proactively, it's still not tolerant and not democratic. But then migrants are ready to act sharply, blaming Europeans for their troubles. They really want to get from Europe (read Germany) "the power over the world and something to eat." That is, social benefits and the opportunity to study in EuroUniversity for free. For the refugees.
However, was it worth it for refugees and Muslims in particular to go so far? The answer is simple - not worth it. And it is precisely according to the principle of "who benefits" that it is necessary to look the other way.
Undoubtedly, the flow of refugees that has poured into Europe is clearly a clearly planned operation. At least for the reason that the war is not the first day. But somehow interrupted. And suddenly, for no reason at all, the dam burst through. The process has begun.
And Europe was clearly not ready for this alignment. And in particular, Germany, where almost everyone is sent. More precisely, where the majority of refugees want to go.
Most likely, this is precisely the essence of the attack on Oktoberfest. Formation of public opinion, which will give impetus to the authorities to close the borders. Perhaps, behind this are certain special services of the same Germany, who are well aware of the difficulty of working with closed diasporas. It is no secret that all services use secret employees from diasporas in such situations. But in such a stream of refugees to recruit difficult. "On the ground," especially since there is war.
As a result, we have a "advance drain". Hands, more precisely, voices of indignant burghers. And the fact that the voices will be - do not go to the grandmother. Especially if in the garden "Schmeisser" grandfather is not buried. Well, this is Oktoberfest's attempt, not something else ...
By the way, there are about two million of these refugees in Turkey. Nashed for three years. And nothing, live. Of course, not as comfortable as it would be possible to live in Germany, but they live. And in Russia, about half a million Ukrainians dissolved. And also live, are not going back. It is clear, of course, that Turkey and Germany, compared with Russia in terms of volumes, are a balloon against the KamAZ camera. But in Turkey everything is relatively calm, and in Germany - groan and cry.
All this is definitely not without purpose. And, perhaps, the special services had nothing to do with it. And the point is that lately in Germany there has been some movement towards Russia. Like "Nord Stream - 2". And some forces dissatisfied with the policy of Merkel, decided to make Angela "happy life." And there is no doubt that the parliamentarians sitting in the Bundestag, right-wing and ultra-right groups "adoring" the newcomers, will be able to arrange it.
"Folk festivities" under the flag of "Hands off Oktoberfest" is what really can "help" Germany with the choice of course. Or at least deprive Merkel of a quiet life for some time. Examples with Montenegro and Slovenia are quite fresh.
So, with all the aggressiveness of Islam in today's world, only one conclusion suggests itself: this time the followers of Allah have nothing to do with the requirements to ban Oktoberfest insulting their feelings.
All this is a well-planned provocation of those who want to put Europe on their ears, hiding behind those who run into it from Africa and the Middle East.
But excuse me, Libya, Tunisia, Syria, Iraq, Iran - are these also the machinations of bloodthirsty Islamists? Come on...
I sympathize with the refugees in Europe. Not by the way, I sympathize with Europe. Refugees still deliver not just trouble to Europeans. But here forgive, feelings at anything. And the Quran too. Rather, European politics and NATO forces.
NATO? Yes of course. And who commands there, do not remind? Or maybe it is worth now to look carefully in that direction? And then the question of who benefits from the fire in the Middle East, the crowds of refugees in Europe and the confusion and vacillation in European countries will become rhetorical.
So, in principle, it doesn't matter what we are starting to observe: "Euroslive" or the next tricky plan of the USA to tear apart in another part of the world. The fact is that there will be no peace.