Today, Chinese President Xi Jinping flew to the United States, where he will hold a series of meetings with representatives of the American authorities, including US President Barack Obama. In addition, the Chinese leader plans to meet with officials of the United Nations. Numerous Chinese journalists cover Xi Jinping's visit. One of the largest Chinese news channels CCTV has joined the coverage. At the same time, CCTV correspondents presented in their material a screensaver dedicated to the visit, in which the US cartographic image was presented clearly in a stripped-down form.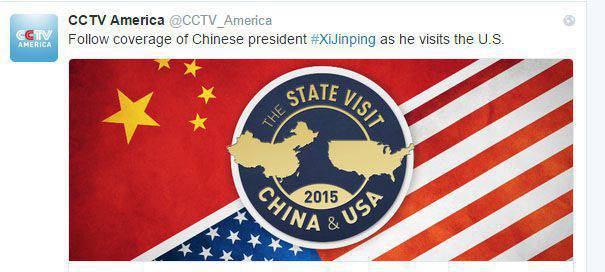 The map was missing two US states - Hawaii and Alaska. And if the absence of Hawaii can still be explained by the complexity of displaying island territories in a small collage, then it's hardly possible to explain the absence of the largest US state - Alaska.
It is noteworthy that the splash screen was presented by employees of the American bureau of the Chinese TV channel - CCTV America. Typically, such blunders are typical for CNN, but Chinese journalists are used to being very careful in preparing any materials. In this regard, the question arises: is this "negligence" usual or is it not at all subtle trolling American "partners"?
For some time, the rather peculiar logo of the visit "decorated" the TV channel's Twitter page, but was later replaced with the usual image of the flags of the two states.
on CCTV channel site
.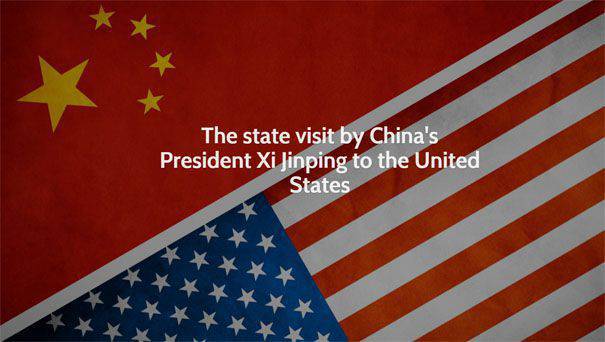 However, in this case, you can pay attention to the peculiarity: usually the flags of China and another state are depicted on the same level - here the Chinese flag is placed over the American one, which also can hardly be considered an accident, considering the subtleties of Chinese politics.