The German television channel ZDF came out with a story that the United States prepared another "gift" for Germany. It is about the readiness to place in Germany (on
aviation
the Bundeswehr base "Büchel") new nuclear samples
weapons
. Journalists
ZDF
stated that they received such information by analyzing the American plans for the implementation of the military budget that fell to them. A German TV channel says that the United States is going to deliver new aviation ammunition B61-12 to Büchel, which can carry Tornado airplanes.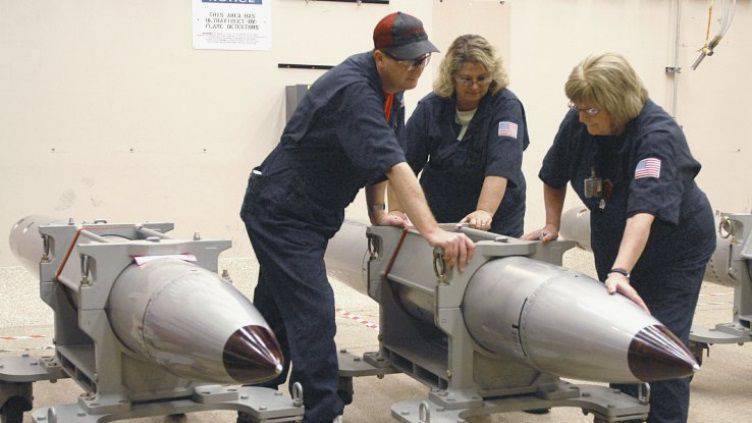 According to some reports, the Americans are planning to deploy this same type of nuclear weapon at the aircraft bases "Incirlik" (Turkey) and "Aviano" (Italy). The B61-12 has significantly improved accuracy compared to similar nuclear weapons of the previous generation. The bombs were developed on the basis of B61 - the main weapon of the US strategic nuclear forces, developed by a laboratory in Los Alamos. The commencement of the operation of these bombs as part of US strategic aviation began in 1968. Over the years, 11 has been created for various modifications of this weapon. Now the turn reached the 12 th modification - B61-12. According to the German media, 20 nuclear bombs will be delivered to Germany, the total power of which exceeds the power of 80 Hiroshim (bombs dropped on this Japanese city in 1945 by the same States).
The Russian Foreign Ministry commented on US plans to place new bombs in Germany. Maria Zakharova spoke on this subject:
The so-called practice of "sharing nuclear weapons" within NATO is of concern. Exercises related to the preparation and use of nuclear weapons by personnel of the armed forces of non-nuclear-weapon States constitute a direct violation of Articles 1 and 2 of the Treaty on the Non-Proliferation of Nuclear Weapons. This abnormal situation has persisted for more than forty years, but this does not make it more acceptable.
The German Defense Ministry is refusing official comments on the possible deployment of a new US nuclear weapon in Germany.