Referring to a certain "Syria consultant in Moscow", the publication
The Financial Times
It comes out with the material that Russia is supposedly going to send about 2 thousands of servicemen to Syria in the near future. The "consultant" FT claims that all these servicemen of the Armed Forces of the Russian Federation will be deployed at the airfield in Latakia.
Another source of the Western publication turned out to be "even more informed" about Russia's plans for action in Syria. According to him, fighter crews are sent to Syria from Russia
aviation
, military engineers, as well as army units for the protection of important facilities. At the same time, both "experts" refer to satellite photographs on which you can see the aircraft of Russian aviation. In particular,
The Financial Times
leads the photo, which depicts a heavy long-haul transport aircraft An-124 "Ruslan".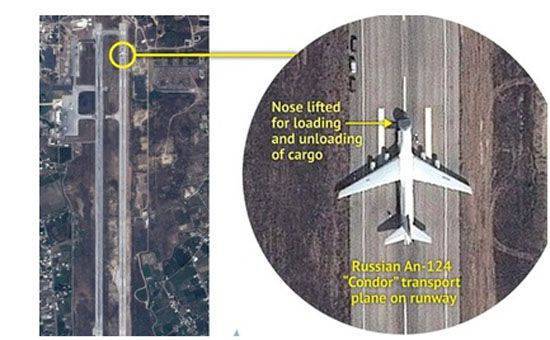 It is strange that in FT they are trying to pass this photo as "sensational" proof of Russia's presence in Syria. The fact is that the video of the An-124 landing in Latakia was also published by the Russian side itself, and therefore Russian aid to Damascus has long been no secret.
It is quite another thing - information about the "thousands of Russian military" in Syria. The "consultants" of the Western press report how they carried out a "calculation" and gained value in 2 from thousands of Russian military personnel. It turns out that they came to this number by the method of comparison. - The idea of ​​exactly such a number of servicemen "consultants" prompted a comparison with the number of troops on US air bases in Afghanistan. They say that if Americans need to keep thousands of their military on 2 (at each of the bases), then the Russians will need to be no less ... The information that Russia is building an air base, and it's own, appeared after publications in
Stratfor
satellite photos of fresh asphalt at the airport in Latakia ...
The only question is: what would these "consultants" do without Google maps? .. Although, there are screenshots of computer games ...