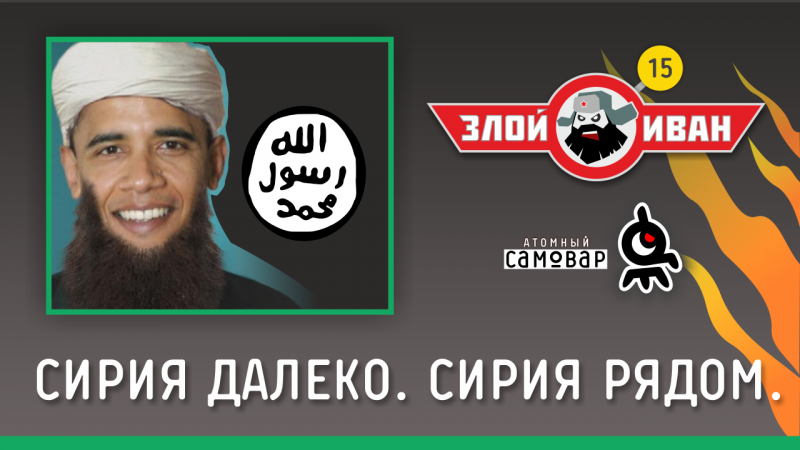 Hello to all ours and not to ours! I am Ivan Victory. And today I am angry again!
Today I am talking about Syria.
News
of the last days they piled such a heap of rumors, conjectures and opinions into the heads of the people that it was time to clear it all up.
It all started with the refugees. Refugees have always been. But then it broke through the dam. At first, the Western Internets flooded tearful and deplorable stories about refugees from the Middle East and Africa, who, for no reason at all, suddenly broke into organized flows into a tolerant, multicultural and yet rich Europe. They rushed there, naturally, in search of democracy and European humanitarian values.
But then what do we care?
But then the subject of all these tearful howls abruptly changed. And, unexpectedly, as it turned out, all these refugees are from Livy, Pakistan, Afghanistan, Iraq, Yemen, Turkey and Syria. They are in fact all strictly and purely Syrian, and they fled straight from Syria from the bloody dictator Bashar Assad. A diligent student of another bloody dictator - Vlad Putin.
The ideological disorder and vacillation in Europe had to be urgently stopped. And for this it was necessary to find and assign the culprit for the happening mess. No, this is not the United States or Europe itself, which bombed Iraq, Libya and Afghanistan into the Stone Age. They overthrew legal governments, destroyed countries, infrastructure, destroyed millions of civilians. Deprived of survivors access to civilization, work and livelihood.
And of course, innocent of the chaos, and the intelligence services of the United States, Europe and Israel, supplying
weapons
and training hundreds of terrorist groups that they modestly call opposition and rebel. Of course they are not to blame.
And Putin is guilty, as always. Putin, his mother for the leg! He does not allow him to overthrow the lawfully elected president of Syria and to bomb into the dust a once-prosperous Middle Eastern country. And refugees are not fleeing from ISIS, al-Qaida, Wahhabis and other gangsters who cut their heads. Not! They run from Putin!
Yes, it was precisely this nonsense that began to be vigorously thrown into the blunt transgender Euromass.
From this point on, it became clear that the situation with refugees is another creative performance. One of the tasks of which is the demonization of Russia, Russians and Putin. Our diplomats tried to explain the ongoing processes with refugees in Europe on the fingers. What if somewhere they destroy a country, overthrow a legitimate government and organize a civil war, then the citizens of such a country become refugees and begin to scatter to neighboring countries. And it always happens. But even such simple arguments and facts couldn't get through to the European brain that had finally finished branding.
At the same time, the conversations that Russia is simply obliged to take part, in the hastily united US coalition against ISIS, have become more frequent. Naturally, under the leadership of the United States, who created this very ISIS. The calculation of these cunning is stupid and primitive. It seems to them that they need to lure Russia into this amusing pro-American coalition. In that coalition, which strenuously pretends that they are fighting with ISIS for more than 2 years. But for this time, ISIS somehow managed to increase the controlled territory by almost five times. If Russia takes part in this circus, then Putin will apparently succeed in convincing that only after the overthrow of Assad will peace come. Do not look for logic here. She is not here. There are frank nonsense, Khutspa and idiocy. This is understood in the leadership of Russia. Well, why should Russia get involved with this bunch of losers and morons who have not been able to solve a single tactical task in two years?
Therefore, Russia, together with Syria, Iran, and Iraq decided to create its coalition. It is these countries that are most interested in establishing peace, since it is they who suffer from the war. Our set to work seriously and thoroughly. Supplies of weapons, equipment, specialists, and military advisers have multiplied multiply. Transport aircraft and ships caravans moved to Syria.
Oh, what started here! Europe races with the United States began to express concern. Part of the media plunged into a panic "Russians are coming!" And, of course, Americans selflessly rushed to save the world from the Russians. Well, not to save ... so finely trick and shit. They began to put pressure on the countries through which our planes fly to Syria, demanding that we close the airspace for us. Iraq, with which Russia in recent years has established successful military-technical cooperation, simply ignored US demands.
But the Bulgarian bros, losing their trousers, rushed to execute the order of the black lord. The Great Bolsheviks and Great Georgians also could not stand aside and, with their traditional debilism, declared that if Russia suddenly asked them to let planes go to Syria, they would certainly refuse it. Peremoga!
I would like to remind the Americans that not all of their junk has been exported from Afghanistan. And of course, Russia allows exporting it through its territory, since it is the safest and shortest way. So ugly, myopic and traditionally stupidly obtained.
Internal traitors also received a signal to pump. And in the liberal media, the second Afghanistan, the millions of Russian soldiers' coffins, the only breadwinner taken from the lonely and sick mother and taken to the army by Putin's personal order screamed in chorus.
Stop hysteria! If suddenly Russia decides to directly take part in the peacekeeping operation in Syria, then volunteers with professional military experience will participate in such a campaign. And they will be selected by competition. This is a matter of prestige and honor for the present military.
Russia decided to help the world in the fight against LIH. The fact that ISIS is an artificially grown offspring of the USA was suspected by many. And recently, our Foreign Ministry began to hint at this openly. Russian military assistance to the Syrian government in the destruction of ISIS terrorists is not part of the US plans. LIH is the favorite freak of the United States with which they are already nightmare Europe, and plans to nightmare the whole world. And their freak is under threat. So that we will desperately resist and crap.
Yes, Russia will now have to clear this abscess, it will not resolve itself. No need to declare that we are engaging in someone else's war. This is not someone else's war. Syria is our ally, who in difficult years for Russia, did not betray her. And the order and stability of Syria is our interest. It is necessary to understand that if this infection is not destroyed there, then after the fall of Syria it will be sent to Russia.
So screeches, alarmists and hysterics - shut up!
Now decisions are made by people who possess enough information and competence to assess the degree of threat and make the right and necessary decisions. They see and know that from your sofa with bedsores you just can not see. So we believe in leadership, in high command and by virtue of Russian weapons. The latter certainly will not fail!
Everything! Believe in your people and your country! Russians will save the world again, so do not get confused under their feet. See you soon!