Mossberg presented its new MVP LC (light chassis) bolt-action rifle. It is designed for long-range shooting. It should be noted that the Mossberg & Sons company can rightfully be proud of its name. The company, which was founded in 1919 in the United States, today occupies its own niche in the arms market.
History
Companies are tied to the fact that the United States used World War I as a good catalyst for the intensive development of its own industry. Having entered the world conflict only in the spring of 1917, the United States of America has already intensively released
weapon
, food and clothing, and in parallel with this tidied up their markets and sources of raw materials. The national wealth of the country for 1914-1918 years increased 2,5 times, and gold reserves reached half of world reserves. Against this significant economic boom and a favorable situation, small companies and firms began to grow like mushrooms after rain.
This is how the Swedish émigré Oskar Mossberg founded his own business in 1919. Moreover, he had heirs and assistants - two sons. He named the company he founded Mossberg & Sons, and the oval with the Swedish flag and three crowns was chosen as its logo. From the very beginning of its activity, the company has worked on its reputation, producing very reliable and quality firearms at affordable prices.

Mossberg was the first to offer elements in rifles that were previously available only in small arms manufactured to order: a trigger box molded in shape, a Monte Carlo-style bed, a quick-release, spring-loaded antabka. Currently, Mossberg continues to adhere to the traditions of the founder Oscar Mossberg: low price, fundamentally new ideas, mass consumption. Guided by these principles, Mossberg 935 Magnum, 835 Ulti-Mag, 500 and 590 rifles were released for self-defense, as well as specialized shotguns designed for law enforcement, the army and personal protection of citizens. The company is currently promoting a wide range of firearms on the market.
Not so long ago, in 2011, Mossberg & Sons made its market debut with its line of versatile bolt-action rifles, the Mossberg Varmint Predator (MVP). These rifles were available to consumers in various versions and popular calibers such as .308 Winchester / 7,62x51mm and .223 Remington / 5,56x45mm. The ammunition for these rifles is powered by detachable magazines from the AR-10, AR-15 or M14 / M1A.
The longitudinal-sliding bolt is the mechanism of a firearm that provides for opening and closing the bore due to the straight-forward translational movement of the bolt along the axis of the barrel. Today, the mechanism with a sliding bolt is very widespread in small arms, both manual and automatic. The reason is that the bolt in such weapons can easily be used as the main driving force for activating other mechanisms of small arms - removing spent cartridges, feeding cartridges and others, thereby ensuring simplicity and rationality of the design, creating the best conditions for the reloading process. and weapons layout in general.

Since 2011, the MVP line has been replenished with models that were designed specifically for hunting, target shooting, or even tactical use by the police. The latest model that expanded this lineup was the 2015 in Las Vegas at SHOT Show 2015 in January and debuting in Europe at IWA OutdoorClassics, which was held in Nuremberg, the MVP LC rifle (Light Chassis). This rifle is designed for multipurpose use, it is able to provide you with a stable quality of shooting, shot by shot.
A lightweight, yellowish-brown aluminum bed, created by MDT, provides an ergonomic, modular base. This MVP rifle was developed to ensure accuracy through the use of a V-shaped bedding of a lodge that is in direct contact with the receiver. The rifle received a free-floating, short-rifled cylindrical barrel without tapering and is sold with a SilencerCo Saker muzzle brake, as well as a Trifecta quick-release fastener (screw cap included in the package). Dorned shafts that are made of carbon steel have an 16,25 inch length (413 mm) in 1: 7 for the .223 Remington / 5,56X45mm rounds, and for the XXUMUM and WNhesX / 308X7,62mm for the ammunition, these frames were used in chapters. (51 mm) The rifling pitch is 18,5: 470. Both versions of the rifle are distinguished by the presence of a matte finish in blue on all metal parts.
Improving accuracy on the MVP LC model was made possible by using the LBA (Lightning Bolt Action) trigger mechanism of its own production. It allows you to achieve a clear and smooth descent effort, which can be set by the shooter in the range of 3 to 7 pounds. This trigger mechanism is made of aviation aluminum and has an anodized coating that is able to prevent corrosion and minimizes the wear of the mechanism to a minimum.
aviation
aluminum provides maximum durability and reliability for firing consecutive rifle shots. Additional design features of the MVP LC rifle include: a tactical-style bolt handle, characterized by increased dimensions; shutter with helical grooves; strap type MIL-STD-1913 "Picatinny rail", located on top for maximum convenience when installing optical sights on the weapon, as well as adjustable bipod.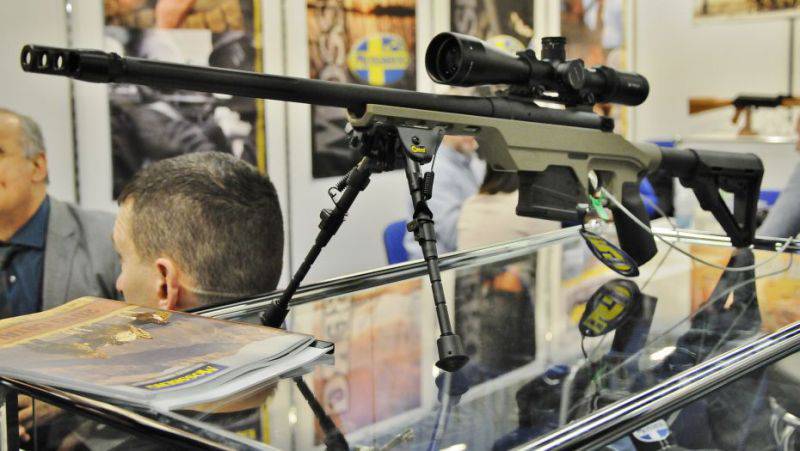 All models of Mossberg MVP LC rifles with a rotary slide gate received A-shaped butts produced by MagPul, having an adjustable distance from the trigger to the rear surface and a friction lock able to minimize excessive movement; as well as MagPul's MOE pistol grip, featuring their comfortable non-slip textured surface and ergonomic design. Available on the weapon are symmetrical QDD swivels, a shock-absorbing rubber butt pad and interchangeable vertical-adjustable combs (three pieces in the set) add versatility models.
Mossberg MVP LC rifles are also available to consumers in the Scoped and Combo versions, the scope of delivery of which additionally includes an optical sight with variable magnification and corresponding rings for its mounting. This riflescope is versatile, it is equipped with an aluminum tube machining with turrets Target-style corrections vertically and horizontally and boasts the presence of a grid in the second focal plane, which is ideal for firing accurate fire at long distances.
Information sources:
https://www.all4shooters.com/ru/spetsialnaya/vystavki-2015/IWA-2015/ruzhya/Mossberg-MVP-LC-vintovka-s-povorotnym-prodolno-skolzyashchim-zatvorom
http://weaponland.ru/publ/istorija_kompanii_mossberg/11-1-0-1816
Materials from free sources