So, millet - 1 kg, buckwheat - 1 kg, macaroni - 1 kg ... Matches must be bought. Box 10-15 ... And batteries to the receiver. Braised beef, pork, goose, horse in a couple of cans is necessary ... That's because the Russian post. Parcels by weight limits! And urgently need to send. There, people from hunger will soon swell.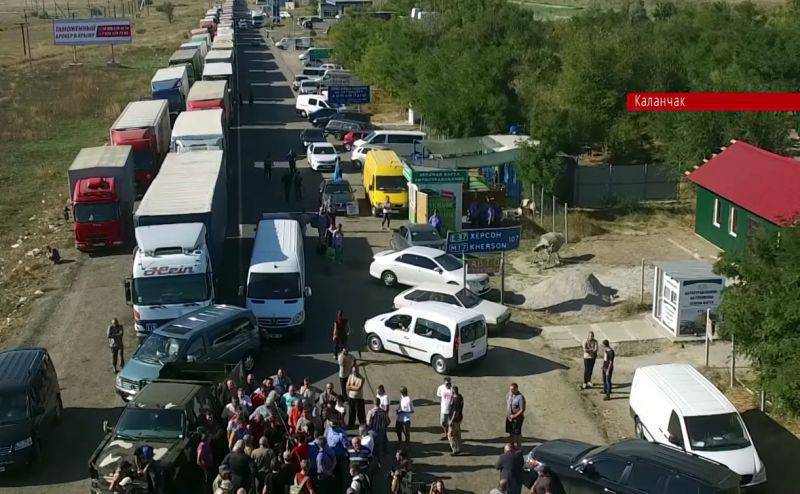 I have an ideological opponent, even sometimes an enemy, but in life is quite a normal friend. Greek-Ukrainian-Crimean-Tatar Russian. Long time ago his family lives in the Crimea. Since tsarist times. Therefore, there are so many bloodshed there that God forbid that you should go for an operation. Doctors go crazy, what kind of blood to pour.
We survived a lot together. And I must say that I do not know a more terrible person. He managed to accommodate all the negative traits of all his ancestors. And in the sum it turned out a good friend, a good father, an honest soldier, the soul of the company. And most importantly, his children. The wings would have been thought to be angels. It is clear, of course, that they are not made with the head or with their hands, but ... There are also not angels.
I learned that one of the branches of his relatives decided to declare a blockade to his children. To babies from the famine of that ... We went to the very angels, they are like. Well, of course, I can not allow this. Still a relative too. He is Russian at the end, and I am Russian. So - a relative. And a close relationship. Our fence is a cousin. So collect parcel. Only now I read about hunger and I just can not remember what turnip looks like. Not in the sense of the face of the enemy's face. And in the sense of a vegetable. All the writers write that the starving people with this very turnip were the only ones who saved themselves from starvation. So, if anyone remembers how she looks, write in the comments. Must be a couple of pieces in the package to cram.
I collected the parcel. Such a weight. And then Skype. Just the Crimean comrade and calls. Well, I think that's all. Began. They eat nettles, every kind of swan (by the way, who knows too, write at least what it looks like). And I slob, was too lazy to send a parcel today. For tomorrow postponed this business.
I'm opening skype. There is a smiling physiognomy of a friend. What, they say, freeze, Siberian birches? Anyone with fluppers get cold fluffy ... And laughs. And we have a warm, light and ... Flies, however, bite. Still, autumn, became evil.
I told him about the blockade. And he laughs even louder. What is such a blockade? So I speak you, as Leningraders in 41, blocked. There will be winters waiting for you to freeze out from the cold and die of hunger.
Well, you and ...! Further, the Tatar expression that characterizes me as a not very intelligent person. You yourself...! This I have already expressed to him the Russian expression in response to his expression. To be clear. I collect a package for him here, and he swears.
In general, we talked about my package. He said that cedar nuts, and better cones, are much more necessary in his family than all that I have collected. And if I send salted mushrooms and saffron milk mushrooms, I will generally be the greatest helper to his family.
And then there was a blockade. The whole of Crimea is laughing now at otherworldly stupidity. The blockade in Ukrainian. Month talked on all channels. For a month, everyone who needed something from Ukraine carried it by waggons. For a month, the relatives called, transmitted, simply talked about this very blockade. Rod is holy. And the Crimean Tatars have friends. From Russian, Armenians, Greeks and other Crimeans. Everyone was in the know.
And the holiday season is over. Harvesting too. And some no, but the harvest has grown. And more. Need to sell. And where? Theoretically, you need to drive to Russia. And who is lucky? Crimean couch potatoes are not accustomed to this. That is sold cheaply grown by dealers. Only greed is eating. So much labor, and earn others.
And then there's the Ukrainians. They also have a harvest. And there is nowhere to sell. They do not buy their own at the normal price, but they don't take them to Europe. All sorts of certificates are required. That rod in the Crimea, all that has grown. Wagons rod. And sell for a penny. Somehow it's not patriotic. Russian pennies are going to buy Ukrainian potatoes.
In short, the blockade is very timely. Now the harvest is exactly in the markets bought up. By the way, prices also do not give rise. Market inspections roam like stray dogs. Evil and all-seeing. And such fines impose that you do not want to trade.
But, the blockade only applies to trucks. Cars rush here and there without problems. And tourists roll out. Usual life. No politics. Only business.
On the Ukrainian side, patriots have already appeared. 21 September one such thundered on all the media. Patriotic deed! Hurray, peremoga peremoga even businessmen! And it was like that.
On the other side of the border, there were almost 4 hundreds of trucks with food. Are standing. Mothers for what the Crimean Tatars in vain, the Majlis, Chubarov, Dzhemilev and all the power in full force. The usual thing. And the product of that ... It is perishable. So perish actively.
Yesterday they tried to block the road by waggons. The activist maydanut, and now the deputy head of the local police, quickly rushed over. Talked gently. The car was removed.
Here is one of the entrepreneurs of the patriots that stanchion and stood up to their throats. He rolled out two of his trucks from the column and dumped all the potatoes on the ground. 40 tons, as in a pharmacy. Then he said a patriotic speech. Something about choking up on this potato. And drove off home.
Take away the abandoned potatoes to all and sundry. But where, 40 tons - this is not 400 kilograms. We decided to share with the other blockers. They called from all three roadblocks. Dragged, dragged ... Not taken away. Called a representative of the administration. Help pull.
"A real example of the manifestation of patriotism in carrying out this action. The owner of the cargo understood the situation, did not complain and left the goods for the blockade participants. We do not even know the name or the name of this entrepreneur, but we express our gratitude to him."
That's what it means efficient head of administration. In short, we decided to send everything that weren't taken apart to the ATO zone.
I think tomorrow and the day after tomorrow there will be more such patriots. Where to take the damaged goods? Home? So he will be golden. So in the ATO area with products will be all right. But in the area of ​​the peasants with money is bad. But ukroSMI, I am sure, this act will be smashed into cities and villages. Patriotism in real performance.
But in general, my Crimean friend is right. Somehow looks Ukrainian now stupid. Everything. And precisely stupid. Like the right things say. Threaten. Torn last vests on his chest. And everyone around is funny. They struggle with oligarchs - even oligarchs laugh. The criminal deputy was arrested and the traitor colonel, again the "goggle" such that the geese are jealous. The circus that the country has turned into is gradually becoming not only ridiculous, but also dangerous for the Ukrainians themselves.
For example, from November 1, a ban will be imposed on the felling of relict beech forests. Good deed? Of course. These forests are the property not only of the Carpathians, but of the whole world. So what? Now, on the Carpathian roads, sawn wood is being driven more than from northern or Siberian timber industry enterprises. Cut down everything. So, by November 1 there will be no need to protect anything.
I remembered the old parable about the king and his tax collectors. The king ordered to stop collecting taxes when the people began to laugh. Just the people have nothing left. And there was nothing to lose. So in Ukraine it is now, I repeat, ridiculous. People still chuckles. But soon "rzhach" will go across the country. Very soon.
So I will not send the parcel yet. Yes, and write the address too. From my Soviet past and there are friends. And friends have children and grandchildren. It would not have had to be sent there.