Nevskoye PKB patented the project of the aircraft carrier Vikramaditya built by Sevmash on the basis of the Soviet aircraft carrying cruiser Admiral Gorshkov.
Flotprom
.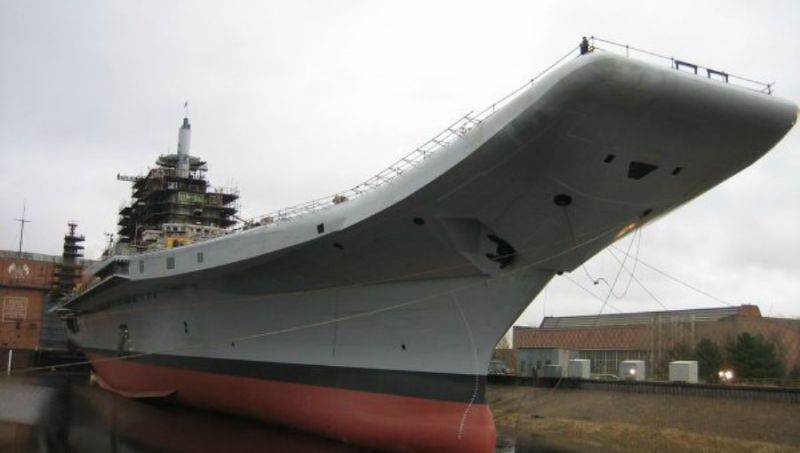 A patent for an industrial design of a ship was registered by the Federal Institute of Industrial Property (FIPS) in July of this year.
The patent lists the elements of the aircraft carrier, which distinguish the "Vikramadityu" from other ships of the same class, designed by other design bureaus. These include the "flight deck X-shaped with intersecting at an acute angle between the runway and the landing strip; runway with springboard over the entire width of the nasal tip; two start lines of the runway, equipped with restraints; optical landing system and the post of head of landing, made in the form of superstructures and three aerofinishers; the cargo area to the right of the island superstructure, as well as the mast, which stands behind the setting. "
The former chief designer of the ship, Boris Shmelyov, confirmed to the newspaper's correspondent that "the image attached to the patent features exactly the aircraft carrier transferred to the Indian Navy in 2013 year".

FlotProm Help:
The aircraft carrier Vikramaditya was built on the basis of the heavy aircraft carrier cruiser Admiral Gorshkov through deep modernization at the Sevmash enterprise. The ship was handed over to the Indian Navy in November 2013. An aircraft carrier can carry up to 34 aircraft, including the 24 fighter MiG-29K / KUB, Ka-28, Ka-31, Sea King, Chetak and Advanced Light Helicopters (ALH) helicopters. The length of the ship is 285 m, deck width is 60 m, full displacement 45400 t, maximum speed of 32 knot, cruising range with 18 nodes reaches 7000 nautical miles, crew includes 110 officers and 1500 sailors. "