The Krylov Research Center announced the completion of the conceptual design of a new atomic icebreaker capable of providing year-round work in the Arctic latitudes, reports
RIA News
with reference to the center representative Vladimir Shlyachkov.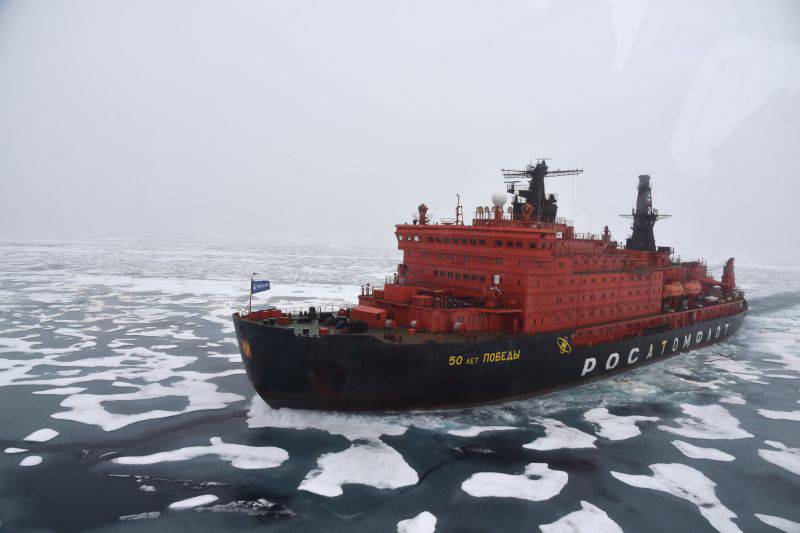 Archive photo
Previously, work on the project of the Russian super-power icebreaker, which is designed to consolidate the leadership of the Russian Federation in the Arctic, reported Dmitry Rogozin.
"The draft design of this icebreaker has been completed. The question of developing a technical project is now being considered, "Shlyachkov informed.
He noted that "the icebreaker, called the" Leader ", will provide the opportunity to work all year round, regardless of the weather, in the Arctic, not only along the Northern Sea Route, but also along the high-altitude route."
According to Shlyachkov, "the power of the icebreaker will be 120 megawatts, its length is over 200 meters, the width is about 50 meters, the draft is 13 meters, the thickness of the broken ice is over 4 meters."
"The ship will be able to navigate ships with a deadweight of around 100 thousand tons and a hull width of 44-50 meters from Cape Zhelaniya to the Bering Strait with a speed of 10 nodes," he added.
The project is being developed jointly with the Iceberg Central Design Bureau and Atomflot Federal State Unitary Enterprise (included in Rosatom).