The Polish Foreign Ministry expressed surprise at the statements made by the Russian ambassador in Warsaw and the Russian Defense Ministry in connection with the dismantling of the monument to General Chernyakhovsky, reports
RIA News
.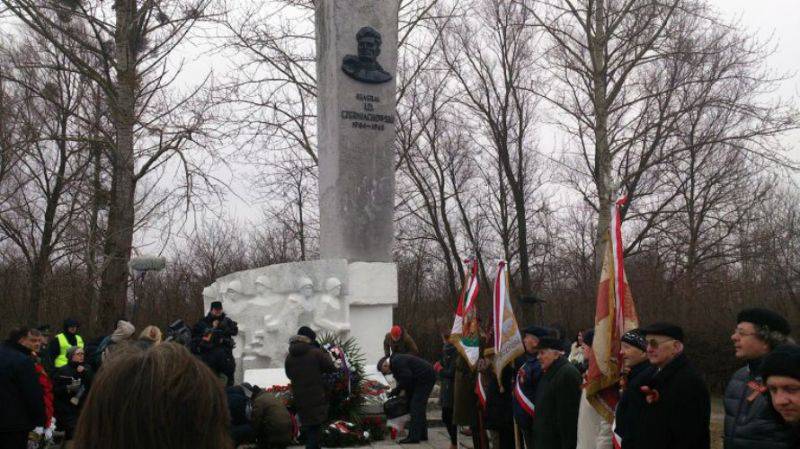 "The Ministry of Foreign Affairs of Poland was deeply surprised by the statement of the Ambassador of the Russian Federation and the Ministry of Defense of the Russian Federation on the case of the dismantling of the monument to General Chernyakhovsky in Penenzhno, as well as the statements by the spokesman for the Russian Foreign Ministry (Maria Zakharova)," the document says.
Earlier, Zakharova said that "the war unleashed by Warsaw against the monuments to Soviet soldiers erected on its territory entered a new round of escalation."
The Polish Foreign Ministry noted that Moscow "was informed in detail about the procedure for dismantling the monument to General Ivan Chernyakhovsky, which has been going on for several years."
Warsaw considers "allegations of allegedly unacceptable and completely unfounded
historical
amnesia of the Polish authorities and the formation of the soil for the revival of Nazism, which were made on September 17 on the 76th anniversary of the Soviet attack on Poland, based on a secret protocol between the authorities of two totalitarian regimes - the Soviet Union and Nazi Germany. "
The Russian side "persistently bypasses this fact." In this regard, the Polish Foreign Ministry "considers this approach of the Russian Federation as a chronic case of historical amnesia and a manifestation of extreme cynicism."
"Without questioning the role of General Chernyakhovsky in the war with the Third Reich, we should not forget that he was responsible and actively participated in the liquidation of the Polish underground - the Home Army," noted in Warsaw. "We have no doubt that the Russian side has detailed, documented knowledge in this regard," the diplomats added.
"Poland has always treated and continues to treat the graves of all fallen soldiers, prisoners of war and internees, regardless of their nationality and the circumstances by which they ended up on our territory, with due honor and care," the Foreign Ministry recalled. "From the day Poland gained full sovereignty in 1989, not a single cemetery of Russian and Soviet soldiers was eliminated."
The Foreign Ministry "regrets that neither the Soviet Union nor the Russian side has so far shown interest in commemorating 800 in memory of the thousands of Red Army soldiers killed by the German Nazis during World War II, and prisoners of war killed in 1941-1945 years buried in what is now Poland. "
"The Polish side declares its readiness for joint actions that could be useful in bringing the Polish and Russian positions closer on memorial issues. The lack of an answer to our proposals on this issue of the Russian side is seen as yet another proof of the instrumental interpretation of history by our neighbors in favor of the current political need, "the statement said.