The Russian Foreign Ministry called the opening of 11 of September in the Latvian city of Ile, a monument to the Forest Brothers, which operated on the territory of the republic in 40-50 in most of the former legionnaires of the Waffen SS, as outrage over the memory of the victims of World War II, reports
RIA News
.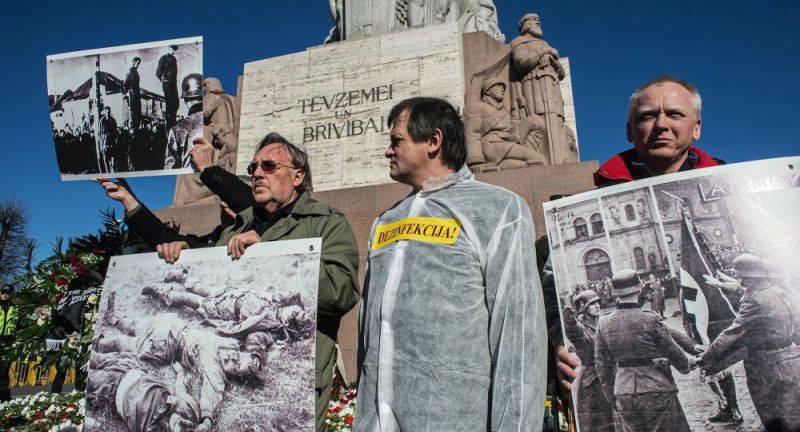 Latvian anti-fascists, archival photo
According to various sources, from the hands of the "forest brothers", from 1,5 to 3, thousands of people, including civilians, died.
"It is puzzling that the event was supported by state officials. At the opening of the monument was attended by about 300 people, among whom were representatives of the Armed Forces of the Republic of Latvia. The Chairman of the Seimas of Latvia, Ieva Mūrniece, addressed the participants with a welcoming speech. We consider this regular cynical action of praising in Latvia minions of Nazi criminals as an outrage upon the memory of the millions who fell in the fight against the "brown plague" "
, - says the commentary of the ombudsman for human rights Konstantin Dolgov, published on the website of the department.
He noted that "the Latvian authorities continue to pursue a line on revising the outcome of the Second World War, which runs counter to international law, in particular the decisions of the Nuremberg Tribunal, and contrasts sharply with Riga's international legal obligations to counter the neo-Nazi and xenophobic tendencies."
"We urge the international community, including human rights organizations, to pay close attention to the glaring facts of the glorification of Nazism in the Republic of Latvia and give them a proper assessment,"
- The authorized foreign ministry stressed.