On Saturday, Vladimir Putin approved the appointment of 6 to the candidates for the positions of general designers of the military-industrial complex, all of whom will be included in the Military-Industrial Commission (MIC). This was announced by Dmitry Rogozin at the conclusion of the meeting of the military industrial complex.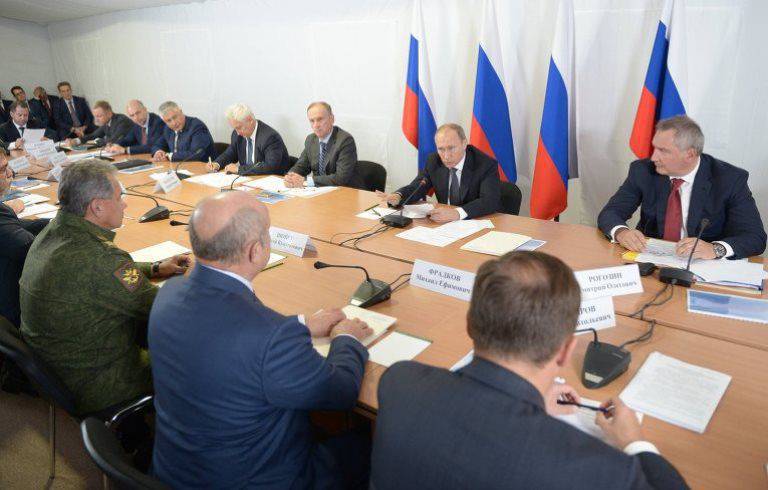 "Today (September 19), Vladimir Vladimirovich Putin spoke in detail with six new candidates. Basically, the emphasis was placed on the creation of space systems of different directions, as well as on the further development of GLONASS. The necessary decisions have been taken in all these areas, and the general designers will join the board of the Military-Industrial Commission. "
- quotes the vice-premier
RIA News
.
At the meeting, the president stressed that the Russian defense industrial complex "needs to improve the system of planning, financing, and coordinating work aimed at building advanced scientific and technological potential." He noted that he is counting on the general consultants, who will have to find a new solution "for more effective implementation of the most important projects to ensure the defense and security of Russia."
In addition, Putin supported the proposal of the FAS (antimonopoly service) on the use of the Federal Reserve for the needs of the armed forces.
"The proposal of the Federal Antimonopoly Service was equally supported, there will be additional meetings on the board of the Military Industrial Commission, we are talking about the possibility of using the Federal Reserve to purchase everything necessary for the needs of the army, fleet, in advance, at prices that are not galloping in the future due to financial conditions and market fluctuations "
- told Rogozin.