Once I heard an expression from an elderly person: we have two Mondays left. I was surprised: what is abroad? She broke her head and forgot. I did not say, I do not understand. Apparently, every wisdom must wait for its time.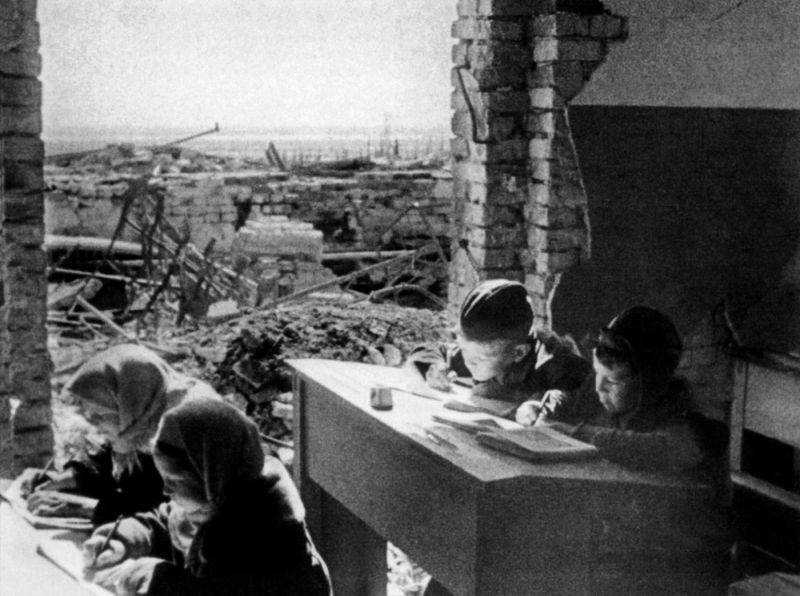 And Baba Tanya from Ivlevka understood well what these two Mondays meant. She was only thirty with a little, and in the village everyone called her "grandmother." Small in stature, lean, like a ripe stalk of wheat. A little limp. I called all the kids in the Ukrainian way - "son" and "daughter". She would have a more pleasant fate — you see, her husband would have returned from the war, their children were born. But Ivan Afanasyevich died at Stalingrad. The postman brought Tatiana Ivanovna together the funeral to him and Stalin's personal thanks for his courage. She put them on the table, tied a dark handkerchief and since then has hardly taken it off. From this handkerchief and even by walking, the villagers recognized her from afar.
Here I will note the surprising: almost all Ivlevka went to the woman Tanya for advice. Even the old-timers, being twice her age, sought help. Apparently, there was a force in Tatyana Ivanovna that was not visible to the eye. And by doing this or that, people felt more confident if an inconspicuous woman Tanya stood behind them.
On December 9, the fascists drove 1941 out of Yelets.
After a hurricane, fallen trees remain on the ground. After the fire - ashes. After the atrocities of the invaders in Yelets there were killed and wounded citizens, orphaned children, destroyed buildings. Need and hunger, and before knocking at every family, have now become masters. There was almost nothing to eat, in front - almost three months of winter. Somehow to feed the children, survive, stretch "two Mondays" ...
At this time, the woman Tanya came to the outskirts of Yelets, to her sister Varvara. Or maybe she did not come, but came on foot - now it is not known for sure.
"Gather the children in the surrounding houses," she said, "and give them to me." I have potatoes, till spring we will stretch. And at you they will die of hunger the day after tomorrow.
And said: "the day after tomorrow." Like butter cut with a knife.
Now it is difficult to imagine such a situation: to give the children to an unfamiliar woman so that they live several dozen kilometers from home. But then, during the war years, people were brought together by misfortune and the struggle against this misfortune. Of course, scoundrels are found at any time. But the unfamiliar, inconspicuous, lame woman Tanya mothers believed right away. We felt the very force that led fellow villagers to her for advice. They understood that a woman resembling a stalk of wheat would save their children.
A few days later, new tenants settled in Ivlevka - about twenty people. How they settled in the small house of Baba Tanya, it remains a mystery. But they lived peacefully, they did not quarrel over the stove warming up.
Each mistress found employment. The boys, as best they could, repaired the furniture: first in the house of the woman Tanya, and then of her neighbors. The girls cared for a single cow and learned to sew. They ate potatoes and "pancakes" from the peel. They drank milk, diluting it with water, so that was enough for everyone.
Sadness Baba Tanya, that not all children could read. And there were no books in the house. Then she got the letters of her husband, Ivan Afanasyevich, - they became the alphabet for the children. Bypassed neighbors: everyone gave what he could. True, among the collected "primers" there were many notices of missing persons and funerals. We studied and on them too.
Sometimes mothers would visit their sons and daughters. They brought what they could. The guests shared on all.
Many wanted to take the children back, feeling that Baba Tanya is very hard. Yes, and miserable, of course, for the guys, worried about them. But woman Tanya did not give the "daughter" and "son." "As the greens go, I will return. I have potatoes until April. In the meantime, suffer! "And all suffered. They understood that there, in the destroyed, plundered Yelets, their children were waiting for "two Mondays", which they had to go through. And here, under the wing of the lame woman Tanya, making stools, caring for the cow and learning to read the funerals and the soldiers' letters, the guys will stay alive. Unless, of course, the Germans did not return. But woman Tanya said that it would be so. The fascists will be banished from the Russian land and ours will certainly win, only time is needed. She was believed.
Baba Tanya believed that boys should certainly become pilots. All, without exception. If the war is over by that time, they will fly in peace planes. And if not, they will smash the fascists. "We have to beat them from above, son! She said. - What land korezhit? What animals are to blame, trees, grass? Learn, take off, rush straight to Berlin and shoot all the bullets at Hitler. Yes, eat, eat.
And the power of the words of Baba Tanya was so great that, imagine, as adults, almost all the boys (there were more than ten of them) actually went to enroll in flight schools! Of course, not all did. But those who became pilots never forgot about the one thanks to whom they now conquered the sky ...
One case - after the wartime - was carefully kept by woman Tanya in her memory and told her fellow villagers.
By that time, she had already moved to Yelets. She lived somewhere on the outskirts, near the telephone office. And suddenly at night they knock on the door. Opens - in front of her unfamiliar woman.
- Let's go to the office! Now you will call from Berlin.
Immediately, of course, I did not understand which department and what the urgent call was. The woman explained that some pilot was looking for a woman Tanya. Through the fifth hands they found the switch, and now she can talk to this pilot.
Came "to the phone." Waited. Nervous. Suddenly - the bell!
It called "son", Lyonya Komarichev. From Berlin he called where he was sent on the instructions of his leadership and a long time ago - the women of Tanya.
She died in the late nineties. She lived alone - in the same place, on the outskirts of Yelets. In recent years, social workers came to Baba Tanya. We cleaned the apartment, went to the grocery store. And almost everyone consulted on what was bothering them.
Sorry, I do not have her pictures, because I myself was not familiar with it. But I think Baba Tanya was very beautiful.
We were surprised that on her table lay the thanks of Comrade Stalin to her husband, Ivan Afanasyevich Rogov. And more letters from other cities, written in different handwritings. Baba Tanya apparently had many children. But they lived in different cities and could not come to her. And the sons, moreover, were pilots. They flew peaceful airplanes and, probably, were very fond of potatoes.