Concern Radioelectronic Technologies, in preparation for the modernization of the Su-30CM, plans to use the technological background obtained when building the PAN FA 5 generation aircraft, reports
RIA News
a message from the deputy general director of the enterprise, Vladimir Mikheev.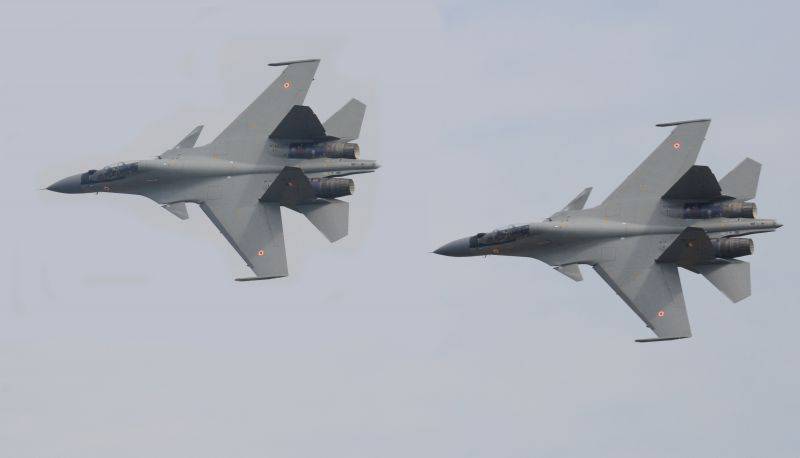 Su-30 Indian Air Force
"Taking into account the signed contracts, Su-30CM and its export modification Su-30МКИ to 2020 will be one of the most numerous aircraft of the Air Force and Navy of Russia, as well as the armed forces of India, Algeria, Kazakhstan, Angola. That is why now we are preparing solutions for a serious modernization of these machines ",
explained Mikheev.
He said that "work is underway to improve the characteristics of the aircraft's radar system, its optical-electronic sighting and navigation systems, and navigation systems."
"We plan to use the technological background obtained in the course of R & D on the creation of the PAK FA," added the deputy head of KRET.
He noted that the work on the modernization of the machine will be carried out "in accordance with the recommendations of the Ministry of Defense of the Russian Federation and suggest an increase in the capabilities of the avionics (airborne electronic equipment), radar and sighting system."
Help Agency:
"KRET enterprises produce for Su-30CM more than 60% avionics. One of the developments of the concern, which allows fighters to orient themselves in space even in the absence of a signal from airborne, land-based and sea-based navigation systems, is the BINS-SPXNNXX inertial navigation system. "